1874-CC 10C Arrows XF45
Certification #50089237,
PCGS #4669
Owner's Comments
Mintage: 10,817
Obverse Dies: 1 Known

The key date to the Liberty Seated Dime series. 1874 Carson City dimes are rare in all grades and are almost always encountered with surface problems. Extremely rare in Mint State.

Always under strong collector demand with problem free examples bringing in excess of trend sheet prices. During 2003 and 2004, there was a rapid escalation of pricing for problem free 1874 Carson City dimes. During 2005, it appears that those pricing gains had stabilized but auction results in 2006 have shown another round of pricing increases.

Plate Coin: Fortin 101, Problem Free Surfaces With Old Light Brown/Gray Toning, Well Struck for 1874 Carson City Issue
Expert Comments
Ron Guth
This date is easily the rarest of all the With Arrows Dimes of the 1874-1875 period. The mintage was a mere 10,817 coins, of which very few were saved by collectors. Because most of the coins went into circulation, Mint State examples are exceedingly rare. What has been called the "Finest Known 1874-CC Dime" is the Buddy Ebsen - Eugene Gardner example that sold in 2014 for $152,750, slightly off from the record $162,150 price the same coin realized in 2003. The Norweb coin, last seen at auction in 1989, may be of comparable condition and it is partially prooflike.
Designer
James Barton Longacre
Diameter
17.90 millimeters
Metal
90% Silver, 10% Copper
Region
The United States of America
Price Guide
PCGS Population
Auctions - PCGS Graded
Auctions - NGC Graded
Rarity and Survival Estimates

Learn More
65 or Better
80
All Grades
5
60 or Better
0
65 or Better
R-8.2
All Grades
R-9.7
60 or Better
R-10.1
65 or Better
1 / 6
All Grades
1 / 6 TIE
60 or Better
1 / 6
65 or Better
2 / 122
All Grades
8 / 122 TIE
60 or Better
1 / 122
#1 MS64 estimated grade

Numismatic Gallery - Imperial Coin Company, sold privately on 7/29/1954 - Norweb Collection - Bowers & Merena 10/1987:540, $15,730 - Bowers & Merena 11/1989:157
#2 MS63 PCGS grade

Buddy Ebsen Collection - Superior 1/1987:786 - Superior 2/2003:1360, not sold - Superior 9/2003:1490, $162,150 - Eugene H. Gardner Collection - Heritage 10/2014:98274, $152,750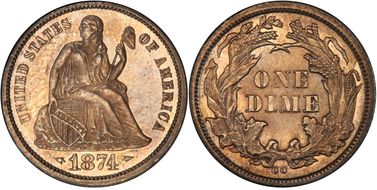 #2 MS63 PCGS grade

Stack's/Bowers 3/2018:10103, $108,000 - Jason Feldman Collection (PCGS Set Registry)
#2 MS63 PCGS grade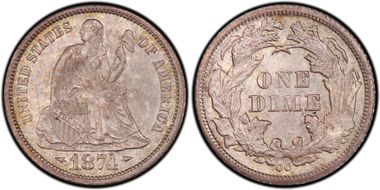 #5 MS62 PCGS grade

Waldo E. "Pat" Bolen, Jr. Collection - Stack's/RARCOA/Akers "Numisma '95" 11/1995:2145, $31,900 - American Numismatic Rarities 1/2005:378, $87,400 - Rusty Goe, sold privately in 2/2005 - Battle Born Collection - Stack's/Bowers 8/2012:11106, $115,000