1875-CC 20C MS65
Certification #04954082,
PCGS #5297
Expert Comments
Ron Guth
This is the only collectible date in this series from the Carson City Mint (the 1876-CC is an extreme rarity that is beyond the means of most collectors). As a result, it commands a hefty premium over the normal type price, including over the 1875 (which has a substantially smaller mintage).
High grade examples of the 1875-CC Twenty Cent piece are scare but not rare. The PCGS CoinFacts Condition Census of the top ten examples includes coins that are all MS 65 and better. Gem MS66 examples are very scarce and anything better is an extreme rarity.
Diameter
22.00 millimeters
Metal
90% Silver, 10% Copper
Region
The United States of America
Price Guide
PCGS Population
Auctions - PCGS Graded
Auctions - NGC Graded
Rarity and Survival Estimates

Learn More
65 or Better
6500
All Grades
750
60 or Better
60
65 or Better
R-3.7
All Grades
R-5.5
60 or Better
R-8.4
65 or Better
4 / 5
All Grades
4 / 5
60 or Better
3 / 5
65 or Better
4 / 5
All Grades
4 / 5
60 or Better
3 / 5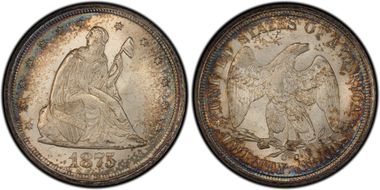 #1 MS66+ PCGS grade

Heritage 4/2015:5008, $51,700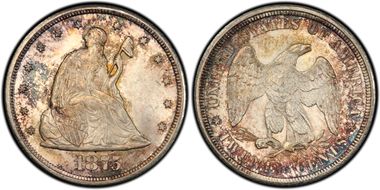 #2 MS66 PCGS grade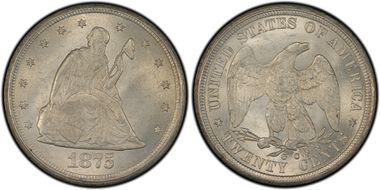 #2 MS66 PCGS grade
#2 MS66 PCGS grade

Heritage 7/2008:1624, $63,250 - Joseph C. Thomas collection - Heritage 4/2009:2295, $40,250 - Heritage 8/2011:7094, $48,875 - Jim O'Neal Collection - Heritage 4/24/2014:5576, $47,000
#2 MS66 PCGS grade

Heritage 1/2014:5206, $48,468.750