1875-S/CC T$1 MS63
Certification #50176482,
PCGS #7040
Owner's Comments
Original toning C to left of S, Also MS62 PCGS with C to right of S.
Expert Comments
Ron Guth
The 1875-S over CC Trade Dollar is one of a group of interesting and unexpected varieties created when mint engravers used dies intended for one of the branch mints, then overpunched the mintmark with that from another. Thus, we see coins such as the 1875-S/CC Trade Dollar, the 1900-O/CC Morgan Dollar. and later issues such as the 1955-D/S Nickel, all of which are important coins to collectors.
Currently, the 1875-S/CC is the only major Trade Dollar variety recognized by PCGS. As such, it is the rarest of all the Trade Dollars in Mint State, even edging out all of the celebrated CC issues. Of the 79 examples shown on the PCGS Population Report (as of January 2014), all of the survivors are distributed over a range of grades from MS61 to MS64, plus a lone PCGS MS65. The 1875-S/CC Trade Dollar is one of only four dates in the series that is not represented by coins above MS65 (the other three are the 1873-CC, 1874-S, and the 1876-CC).
---
Q. David Bowers
The following narrative, with minor editing, is from my "Silver Dollars & Trade Dollars of the United States: A Complete Encyclopedia" (Wolfeboro, NH: Bowers and Merena Galleries, Inc., 1993).
Coinage Context
Mintage unknown: The 1875-S/CC was included as part of the regular 1875-S mintage, and no separate Mint records exist concerning its production. For some reason at least two Carson City reverse dies of the Type I style, with tall CC letters, had the CC mintmark partially effaced and overpunched with an S mintmark.
Numismatic Information
Discovery of the variety: This issue was generally unknown to numismatists until the early 1960s. One of the earliest market appearances of the variety was in New Netherlands Coin Company's sale of December 10-11, 1963; a coin described as follows:
1875-S over CC. Brilliant Unc.; magnificent light iridescent toning. Unfortunately, this otherwise beautiful piece has some scattered pitting in the r. obverse field, where corrosion was removed. The reverse, however, is virtually free of defect, unless we mention the couple of microscopic pits which are only discernible under a good lens, and a hairmark (as made, of course), Undoubtedly the sharpest of the three specimens verified, and the only one which has not seen circulation. Judging from the meteoric rise of the 1938 D over S nickels (of which many thousands exist), this interesting blunder should be worth a high three-figure price. The second C is visible to the right of the S, and the small oval back of the first C to the left of S. The CC mintmark can be clearly seen with the naked eye, and a 10x lens further discloses that the S has been double-punched; the first figure tilts slightly to the r. and is clearly visible, pecking out from behind the lower serif and in front of the higher one. This variety was discovered by Texan Bob Medlar, and then authenticated by our firm. Don Taxay illustrated Medlar's piece on p. 184 of his recent book, (QDB note: Counterfeit, Mis-struck and Unofficial US. Coins, Arco Publishing Co., 1963; there called unique. In his Encyclopedia, p. 468, Walter H. Breen credits the discovery to C.H. Farrar, who published the variety in the Numismatic Scrapbook, February 1965-but this was two years after the citation given here.) and that plate is reproduced in this catalogue. The second specimen, found by Hank Bieciuk of Kilgore, Texas, was illustrated in Coin World, May 31,1963, and was simply described as having been cleaned before the discovery could be made. A couple of others have been reported. [Price realized: $250.]
In 1962-3, the 1875-S/CC overmintmark was considered to be a great rarity, but over a period of time (QDB note: Counterfeit, Mis-struck and Unofficial US. Coins, Arco Publishing Co., 1963; there called unique. In his Encyclopedia, p. 468, Walter H. Breen credits the discovery to C.H. Farrar, who published the variety in the Numismatic Scrapbook, February 1965 -- but this was two years after the citation given here) additional specimens came to light. Today, it is considered to be moderately scarce in lower grades and quite rare in Mint State. As it is the most significant die variety in the trade dollar series, apart from regular dates and mintmarks, the 1875-S/CC is highly prized in all grades. All seen are Type III.
In Mint State, the 1875-S/CC is considered to be slightly rarer than the famous 1878-CC, although I suspect that at least a few Mint State 1875-S trade dollars are unattributed 1875-S/CC coins. Hence, I expect that the relative rarity of this issue will decline slightly (the variety will be recognized as more common as more are discovered) as years pass. Most likely the majority of these will be late die states showing only faint traces of the CC.
Chopmarked pieces exist in various grades, including a Mint State coin handled by Bowers and Merena Galleries, Inc. in 1992.
Circulated grades: In grades from VF-20 to AU-58 the 1875-S over CC is fairly scarce. I estimate that about 200 to 400 are known.
However, I believe that more will come to light as years go on, especially among chopmarked pieces. In an interview, Douglas Cass told me that it was common in the early 1980s in visits to Hong Kong to find unattributed 1875-S over CC chopmarked trade dollars offered as 1875-S.
In John Willem's lifetime, chopmarked coins were considered rare. Note: In Henry Christensen's sale catalogue for the John M. Willem Estate Collection, sold on September 5, 1980, Lot 724 was a chopmarked 1875-S/CC, with this notation: "Very rare with chopmarks." While today in the early 1990s the view has changed, still there is much research to be done on the availability of other chopmarked issues in the trade dollar series.
Mint State grades: In certified MS-65 grade the coin is currently unknown. However, I would not want to bet that one or more won't be discovered as "regular" 1875-S trade dollars, a readily available issue, are examined for this feature. In MS-64 condition, about 4 to 7 are known today, while about 5 to 8 are known to exist in MS-63, and perhaps 50 to 75 at lower Mint State levels.
Varieties:
OBVERSE TYPE I: RIBBON ENDS POINT LEFT, 1873-1876
REVERSE TYPE I: BERRY BELOW CLAW, 1873-1876
1. 1875-S/CC Large S: Breen-5792. Scarce. CC mintmark more or less centered below S. The variety usually seen. All examined are from an extensively cracked die.
2. 1875-S/CC Large S: With CC far to the right of the S. Much rarer than the preceding. Differently cracked reverse die. Reported by Bruce Amspacher; listed by Walter Breen (Encyclopedia:5972, notation); not seen by the author. Very rare. (See "Bruce Amspacher's Discovery" under Additional Information below.)
Dies prepared: Obverse: At least 1 (part of 1875-S shipment); Reverse: 2 (part of 1875-S shipment) Circulation strike mintage: A. small fraction of the 4,487,000 mintage for 1875-S
Characteristics of striking: Usually seen well struck.
Known hoards of Mint State coins: None
Rarity with original Chinese chopmark(s): Rare.
Commentary
The only overmintmark in the trade dollar series. Unknown to the numismatic fraternity until the public announcement in 1963 of its existence.
Additional Information
Bruce Amspacher's Discovery
Bruce Amspacher related the following concerning the rarer of two die varieties of the 1875-S/CC(Letter to the author, June 24, 1992.):
"In early 1974, Ed Hipps sold an 1875-S/CC trade dollar to Jim Halperin for $375. The coin was frosty, mint state, and clean -- a gem to my 1974 eyes. I wanted the coin, but Jim quoted me $625 for it. Too much. The neatest thing about the coin was that the 'CC' mintmark was completely clear of the 'S' and far to the right. In 1975 I asked Jim if he still had the coin. He said he had sold it to Eric Newman, or maybe he said he sold it to John Willem -- it was definitely one of those two (the author's [QDB's] inquiry to Eric P. Newman elicited this reply dated July 14, 1992: "I have no recollection of acquiring an 1875-S/CC trade dollar. I would guess it was Willem.")
"When I wrote the trade dollar section for John Highfill's book, The Comprehensive U.S. Silver Dollar Encyclopedia, I mentioned this variety. Walter Breen saw the article before publication and, asked John to contact me. It was a new undiscovered variety, Walter insisted, and he wanted to see a photograph. John said that Walter was very excited about the coin. I called Jim about the coin, but he didn't remember anything about it. Jim chided me about my ability to remember "everything that has ever happened." Of course, I don't remember everything, or even close to it. But I do remember that coin, and the variety definitely exists."
Diameter
38.10 millimeters
Metal
90% Silver, 10% Copper
Region
The United States of America
Price Guide
PCGS Population
Auctions - PCGS Graded
Auctions - NGC Graded
Rarity and Survival Estimates

Learn More
65 or Better
300
All Grades
50
60 or Better
1
65 or Better
R-6.4
All Grades
R-8.5
60 or Better
R-10.0
65 or Better
1 / 18 TIE
All Grades
2 / 18 TIE
60 or Better
1 / 18 TIE
65 or Better
1 / 18 TIE
All Grades
2 / 18 TIE
60 or Better
1 / 18 TIE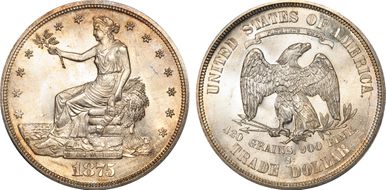 #1 MS65 PCGS grade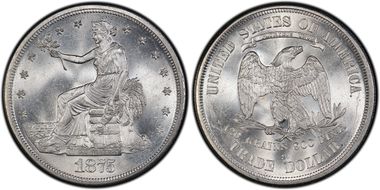 #2 MS64 PCGS grade

Heritage 2/2007:3702, $20,700 - Legend Numismatics, sold privately in 7/2007 - Eugene H. Gardner Collection, Part III - Heritage 5/2015:98589, $24,675 - Legend Rare Coin Auctions 2/2016:287, $27,025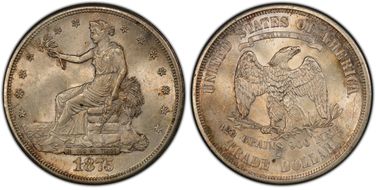 #2 MS64 PCGS grade
#2 MS64 PCGS grade

Dr. John C. Wong Collection - Bowers & Merena 11/2001:4586, $17,250
#2 MS64 PCGS grade