1875-S T$1 MS64
Certification #21919123,
PCGS #7039
Expert Comments
Q. David Bowers
The following narrative, with minor editing, is from my "Silver Dollars & Trade Dollars of the United States: A Complete Encyclopedia" (Wolfeboro, NH: Bowers and Merena Galleries, Inc., 1993).
Coinage Context
Large mintage: The production quantity of trade dollars at the San Francisco Mint in 1875 was immense. Included in the monthly figures (see Summary of Characteristics) were several months' production which on their own would have been satisfactory for a year in earlier times; namely, January 695,000, April 652,000, May 535,000, October 614,000, November 517,000, and December 516,000. These numbers when added to the figures for other months comprised a total of 4,487,000 pieces, a record for the series.
While the majority of such coins were exported, thousands went into circulation on the West Coast, particularly in the San Francisco area, where they traded at face value in commercial transactions. Possibly the largest exporter was the Nevada Bank of San Francisco (see Additional Information under 1877).
Mint officials rested easy, knowing that the silver-mining interests (and their congressional friends, Senators Allison and Jones and Representative Richard P. Bland) were satisfied in the knowledge that the market for the metal was strong. The Oriental demand was great, and domestically a good future awaited the continuing coinage of fractional pieces (from the dime through the half dollar), which were being minted in very large quantities to redeem Fractional Currency notes and to restore silver to United States commerce.
Numismatic Information
Varieties: 80% to 90% are Type I/I, and the rest are I/II. Apparently, the Type II reverse dies reached San Francisco late in the year and were not used extensively.
Circulated grades: In grades from Very Fine to AU the 1875-S is the third most common trade dollar. As such, it is a favorite with "type" collectors. Tens of thousands of these coins exist. Chopmarked coins are also plentiful; most are Type I/I, but many are I/II; each is common.
Mint State grades: In MS-65 the 1875-S is the most available of all trade dollars. I estimate that 75 to 150 or more exist. Most are decent strikes and are quite lustrous. At the MS-64 level I believe that 200 to 400 or more exist, while I estimate 500 to 1,000 or more as the population for MS-63 coins. In grades from MS-60 to 62, an estimated 1,500 to 3,000 or more survive. Many Uncirculated coins were brought to the United States from Hong Kong in the 1940s and 1950s. Most (about 80% to 90%) Mint State coins are Type I/I; the rest are Type I/II.
Varieties: The 1875-S Type I/I exists with micro s and with large S. The 1875-S Type I/II exists with tall S as well as with micro s, the latter being rare. Still another has an inadvertent "period" (die flaw, not punctuation) between IN and GOD and is considered rare. Collecting interest in trade dollars by mintmark sizes is not great, and usually such pieces can be obtained for little or no extra premium.
Varieties:
OBVERSE TYPE I: RIBBON ENDS POINT LEFT, 1873-1876
REVERSE TYPE I: BERRY BELOW CLAW, 1873-1876
Circulation strikes:
1. Micro s: Breen-5790. Not rare. Sometimes the S appears as a blob (as also seen on dimes of this date). Often seen chopmarked.
2. Large S: Breen-5791. Mintmark 1.17 mm high. Sometimes seen with broken serifs on ITE MER and some other letters. One reverse die has a large "glob" on the first L of DOLLAR. Another has a dot between IN. GOD (Breen-5794). Often seen with chopmarks.
(1875-S/CC: See next section of this book.)
OBVERSE TYPE I: RIBBON ENDS POINT LEFT, 1873-1876
REVERSE TYPE II: NO BERRY BELOW CLAW,
1875-1885
Circulation strikes:
1. Micros: Breen-5795. Still very rare.
2. Medium S: Mintmark 1.1 mm high.
3. Large (or tall) S: Breen-5793. Mintmark 1.17 mm high. Plentiful on an absolute basis, but on a relative basis about four to five times scarcer than II 1. The usually encountered variety of the Type II reverse. Often seen chopmarked.
Dies prepared: Obverse: 30; Reverse: 30. According to R.W.Julian, 24 pairs were shipped on November 12, 1874, and 6 more pairs on July 28, 1875.
Circulation strike mintage: 4,487,000. Delivery figures by month: January: 695,000; February: 109,000; March: 30,000; April: 652,000; May: 535,000; June: 227,000; July: none; August: 311,000; September: 281,000; October: 614,000; November: 517,000; December: 516,000. If all 30 die-pairs were used, the average production rose sharply to 149,166 coins per pair.
Characteristics of striking: Often seen with weakness on eagle's sinister leg.
Known hoards of Mint State coins: None
Rarity with original Chinese chopmark(s): Type I/ I. Common; Type I/II. Common, but not as common as Type I/I.
Commentary
Although the 1875-S is not the highest mintage trade dollar, it is the most available in Mint State.
Diameter
38.10 millimeters
Metal
90% Silver, 10% Copper
Region
The United States of America
Price Guide
PCGS Population
Auctions - PCGS Graded
Auctions - NGC Graded
Rarity and Survival Estimates

Learn More
65 or Better
5000
All Grades
1500
60 or Better
40
65 or Better
R-4.0
All Grades
R-4.8
60 or Better
R-8.7
65 or Better
17 / 18
All Grades
17 / 18 TIE
60 or Better
16 / 18 TIE
65 or Better
17 / 18
All Grades
17 / 18 TIE
60 or Better
16 / 18 TIE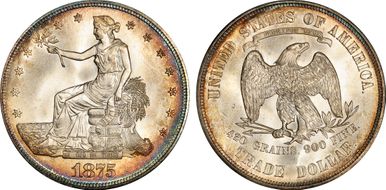 #1 MS68 PCGS grade

Trade Dollar Nut Collection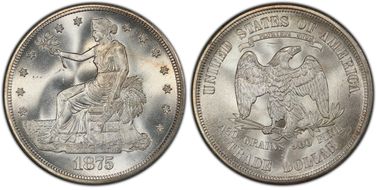 #2 MS67 PCGS grade

Heritage 1/2012:3330, $69,000 - Greensboro Collection, Part VII - Heritage 1/2019:4530, $51,600
#2 MS67 PCGS grade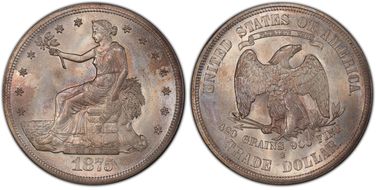 #4 MS66+ PCGS grade

Heritage 1/2012:3329, $28,750 - Heritage 1/2017:5706, $19,975 - David Lawrence 3/2017:1187189, $22,250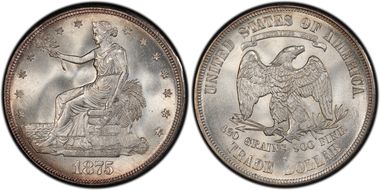 #4 MS66 PCGS grade

Heritage 4/2007:955, not sold - David Lawrence, sold privately in 7/2007 - Heritage 5/2015:98588, $18,800 - Heritage 8/2018:5186, $22,800