1875-S 50C AU58
Certification #19385423,
PCGS #6351
Owner's Comments
WB-104 small wide S, with a green CAC sticker.
Expert Comments
Ron Guth
In 1875, the San Francisco Mint made twice as many Half Dollars as the Carson City Mint, but just over half as many as the Philadelphia Mint. With a mintage of 3,200,000 coins, the 1875-S Half Dollar is valued as a regular example of the type, with no premiums for most grades. Mint State examples are plentiful in all grades from MS62 to MS66, above which this date becomes an extreme, condition-rarity. The strike quality on 1875-S Half Dollars varies from soft to strong on the stars. Thus, if given the opportunity, and all else is equal, choose the coin that is better-struck.
Designer
Thomas Sully/Christian Gobrecht
Diameter
30.00 millimeters
Metal
90% Silver, 10% Copper
Region
The United States of America
Price Guide
PCGS Population
Auctions - PCGS Graded
Auctions - NGC Graded
Rarity and Survival Estimates

Learn More
65 or Better
3000
All Grades
475
60 or Better
90
65 or Better
R-4.4
All Grades
R-6.0
60 or Better
R-8.1
65 or Better
41 / 45 TIE
All Grades
43 / 45
60 or Better
40 / 45
65 or Better
114 / 126 TIE
All Grades
121 / 126 TIE
60 or Better
100 / 126
#1 MS67 PCGS grade

Stack's/Bowers 11/2012:1745, $9,200 - Heritage 4/2013:4276, $22,325 - Eugene H. Gardner Collection - Heritage 6/2014:30518, $18,800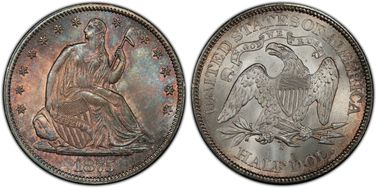 #2 MS66+ PCGS grade

Stack's/Bowers 8/2015:438, $4,700 - Heritage 1/2016:4057, $5,170
#2 MS66+ PCGS grade
#2 MS66+ PCGS grade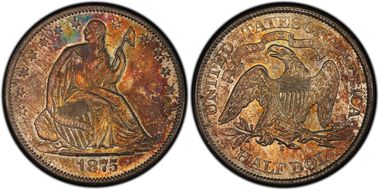 #5 MS66 PCGS grade

"Colonel" E.H.R. Green Collection - Partnership of Eric P. Newman & B.G. Johnson (St. Louis Stamp & Coin Co.) - Eric P. Newman, who paid $3.50 - Eric P. Newman Numismatic Education Society - Heritage 11/2013:33741, $11,750 - Legend Numismatics, offered on their website on 7/16/2014 for $11,950 - Legend Rare Coin Auctions 12/2014:177, not sold - Legend Rare Coin Auctions 9/2015:148, $8,813