1876-CC $10 AU50
Certification #22111129,
PCGS #8675
Owner's Comments
Allen Rowe Northern Nevada coin
Expert Comments
David Akers (1975/88)
All the early Carson City Mint Eagles are very rare and the 1876-CC is no exception. In terms of overall rarity, it is on a par with the 1872-CC, 1873-CC and 1875-CC and is only a little less rare than the 1878-CC. From the standpoint of condition rarity, it is near the top of the series ranking fourth according to average grade. As is the case with the other CC Eagles of this period, most 1876-CC Eagles are softly struck on the hair curls around Liberty's face.
Designer
Christian Gobrecht
Diameter
26.80 millimeters
Metal
90% Gold, 10% Copper
Region
The United States of America
Price Guide
PCGS Population
Auctions - PCGS Graded
Auctions - NGC Graded
Rarity and Survival Estimates

Learn More
65 or Better
126
All Grades
0
60 or Better
0
65 or Better
R-7.7
All Grades
R-10.1
60 or Better
R-10.1
65 or Better
29 / 117
All Grades
1 / 117
60 or Better
1 / 117
65 or Better
59 / 183
All Grades
1 / 183
60 or Better
1 / 183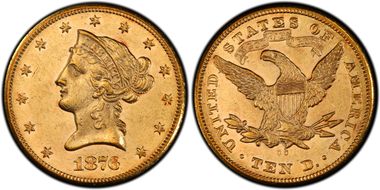 #1 AU58 PCGS grade

Heritage10/1994:6953 - Winthrop Carner - private collection - unknown intermediaries (?) - J.J. Teaparty - Bowers & Merena 7/2002:632 - Battle Born Collection - Stack's/Bowers 8/2012:11026, $
#1 AU58 PCGS grade

Plate coin in the second edition of Winter's book on Carson City gold coinage. Supposedly found in England in the spring of 1997 - Doug Winter/Delaware Valley Rare Coins - Nevada Collection - Doug Winter - Pinnacle Rarities - Old West Collection - American Numismatic Rarities 8/2006:1347, $39,100
#1 AU58 PCGS grade
#4 AU55 PCGS grade
#5 AU53 PCGS grade

Ellen D. Collection (PCGS Set Registry) - Simpson Collection