1876-CC $5 AU50
Certification #03827437,
PCGS #8340
Owner's Comments
Allen Rowe Northern Nevada Coin
Expert Comments
David Akers (1975/88)
The 1876-CC has the lowest mintage of any Carson City Mint Half Eagle. It is not the rarest, however, but is of approximately the same rarity as the 1871-CC, 1872-CC and 1877-CC and a little more rare than the 1874-CC. It is not as rare as the 1870-CC, 1873-CC, 1875-CC, or 1878-CC. Almost all known specimens are well circulated with VF being typical.
Designer
Christian Gobrecht
Diameter
21.65 millimeters
Metal
90% Gold, 10% Copper
Region
The United States of America
Price Guide
PCGS Population
Auctions - PCGS Graded
Auctions - NGC Graded
Rarity and Survival Estimates

Learn More
65 or Better
117
All Grades
1
60 or Better
1
65 or Better
R-7.8
All Grades
R-10.0
60 or Better
R-10.0
65 or Better
23 / 106 TIE
All Grades
1 / 106 TIE
60 or Better
1 / 106 TIE
65 or Better
63 / 218 TIE
All Grades
1 / 218 TIE
60 or Better
1 / 218 TIE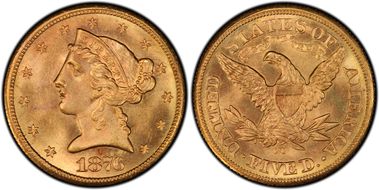 #1 MS66 PCGS grade

S.H. & H. Chapman Brothers, 1893 - John H. Clapp Collection - Louis Eliasberg, Sr. - Bowers & Ruddy 10/1982:540, $26,400 - Melnick 11/1983 - Joe Kuehnert - Andy Lustig - David Akers "Auction '89" 7/1989:1395 - Superior 5/1990:5598 (as NGC MS65), $121,000 - Superior 5/1991:1390 - Bowers & Merena 7/2002:613, $138,000 - Battle Born Collection - Stack's/Bowers 8/2012:11007, $477,250 - Stack's/Bowers 5/2015:63, not sold
#2 AU58 PCGS grade
#2 AU58 PCGS grade
#2 AU58 PCGS grade
#5 AU55 PCGS grade