1876-CC 50C F12
Certification #34140046,
PCGS #6353
Expert Comments
Ron Guth
In 1876, employees at the Carson City Mint produced a record number of nearly two million Half Dollars, a number they would never meet or exceed again. From a relative standpoint, this makes the 1876-CC Half Dollar a common to semi-scarce coin, but it always commands a premium in the market because of the mintmark on the reverse. PCGS has certified scores of Mint State examples between MS63 and MS64. Gems are rare but not extraordinarily so. Anything better than MS65 is a condition-rarity.
Many 1876-CC Half Dollars show a frosty or creamy luster. Conversely, there are quite very few Prooflilke examples. One example has been called a Proof, though the market gave it no grand premium when it sold as part of the George Byers Collection in 2006. In a 1991 certification letter, Walter Breen called the coin a Proof. Bill Bugert discusses this coin (and other Prooflike 1876-CC Half Dollars) in his book, "A Register of Liberty Seated Half Dollar Varieties, Volume 2: Carson City Brtanch Mint." Though Bugert comes short of calling the coin a Proof, he agrees "...it does have proof-like qualities" and that "...this coin may have been prepared specially for the centennial celebrations of the founding of the United States of America." The existence of Proof 1876-CC Dimes makes the possibility of a Proof 1876-CC Half Dollar a tantalizing possibility.
Designer
Thomas Sully/Christian Gobrecht
Diameter
30.00 millimeters
Metal
90% Silver, 10% Copper
Region
The United States of America
Price Guide
PCGS Population
Auctions - PCGS Graded
Auctions - NGC Graded
Rarity and Survival Estimates

Learn More
65 or Better
450
All Grades
100
60 or Better
15
65 or Better
R-6.1
All Grades
R-8.0
60 or Better
R-9.3
65 or Better
10 / 45 TIE
All Grades
22 / 45
60 or Better
20 / 45 TIE
65 or Better
28 / 126 TIE
All Grades
79 / 126 TIE
60 or Better
63 / 126 TIE
#1 MS67 estimated grade
#2 MS66 PCGS grade

Rusty Goe, 1/2008 - Battle Born Collection - Stack's/Bowers 8/2012:11088, $18,400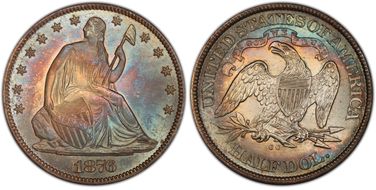 #2 MS66 PCGS grade

Tom Bender Collection (PCGS Set Registry)
#2 MS66 PCGS grade

Eugene H. Gardner Collection, Part II - Heritage 10/2014:98518, $17,625 - Larry Whitlow, sold privately in 10/2001
#2 MS66 PCGS grade