1877-CC 25C AU58
Certification #37326063,
PCGS #5505
Expert Comments
Ron Guth
The 1877-CC Quarter Dollar is a surprisingly common coin.  It represents one of the best values in all of the CC-Mint coins. In terms of certified examples, this date is almost as plentiful as the 1876 -- and both dates have nearly the same number of certified Mint State examples. Of course, the real attraction of this date are the two little letters that represent the CC-mintmark on the back of the coin. Thus, this date will always command a premium simply because it originated in Carson City.
The images above illustrate the gorgeous color and eye appeal that many examples possess. Those are the priciest examples, but there are many mid-range, Mint State examples that can be just as attractive.
Designer
Robert Ball Hughes/Christian Gobrecht
Diameter
24.30 millimeters
Metal
90% Silver, 10% Copper
Region
The United States of America
Price Guide
PCGS Population
Auctions - PCGS Graded
Auctions - NGC Graded
Rarity and Survival Estimates

Learn More
65 or Better
3000
All Grades
400
60 or Better
50
65 or Better
R-4.4
All Grades
R-6.2
60 or Better
R-8.5
65 or Better
42 / 48 TIE
All Grades
39 / 48 TIE
60 or Better
29 / 48 TIE
65 or Better
103 / 114 TIE
All Grades
94 / 114 TIE
60 or Better
67 / 114 TIE
#1 MS67+ PCGS grade
#2 MS67 PCGS grade

Norweb Collection - Stack's 11/2006:127, $23,000 - Eugene H. Gardner Collection - Heritage 6/2014:30395, $38,187.50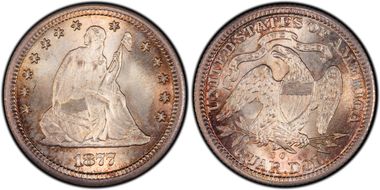 #2 MS67 PCGS grade

Rusty Goe - Battle Born Collection - Stack's/Bowers 8/2012:11098, $14,950
#2 MS67 PCGS grade

Heritage 7/2015:3102, $15,289.10
#2 MS67 PCGS grade