1877-S 10C MS65
Certification #14273114,
PCGS #4684
Owner's Comments
Mintage: 2,340,500
Obverse Dies: 10 Known Only With Type II Reverse

The 1877 San Francisco date is difficult to locate in nice EF-AU condition. Greer considers the 1877-S date as "One of the most challenging common dates to locate". It has been speculated that significant melting of this coinage took place to supply silver for minting of Morgan silver dollars in 1878.

All 1877 San Francisco examples will be found with a Type II reverse.

Plate Coin: Fortin 101, Repunched 18 Digits, A Top 100 Variety, Light Rose/Gold Toning Throughout, Well Struck Gem
Expert Comments
Ron Guth
The 1877-S Dime has a fairly healthy mintage of 2,340,000 pieces, but most collectors find this date to be elusive in high grade. This is an attribute that seems to be common to many of the S-Mint issues of this era, and it may have something to do with the distance of the San Francisco Mint from the collectors in the Eastern U.S. This date usually comes well-struck, but the mintmark often appears as a blob. The PCGS CoinFacts Condition Census begins at MS65 and ends with a single PCGS MS67 as the finest-known example).
Dime researcher, Gerry Fortin, has identified 14 different die varieties for this year, all of which have Type II reverses (the end of the ribbon on the left side of the bow ends in a single point). He alludes to the existence of a Type I reverse 1877-S Dime, though no actual example has ever been seen. Since the 1877 and 1877-CC Dimes are found with either a Type I or a Type II reverse, it is reasonable to assume that a Type I reverse 1877-S Dime exists.
Designer
James Barton Longacre
Diameter
17.90 millimeters
Metal
90% Silver, 10% Copper
Region
The United States of America
Price Guide
PCGS Population
Auctions - PCGS Graded
Auctions - NGC Graded
Rarity and Survival Estimates

Learn More
65 or Better
1000
All Grades
150
60 or Better
20
65 or Better
R-5.0
All Grades
R-7.5
60 or Better
R-9.1
65 or Better
36 / 67 TIE
All Grades
40 / 67 TIE
60 or Better
37 / 67 TIE
65 or Better
76 / 122 TIE
All Grades
80 / 122 TIE
60 or Better
74 / 122 TIE
#1 MS67 PCGS grade

Heritage 8/2006:5143, $20,700 - Eugene H. Gardner Collection - Heritage 10/2014:98278, $18,800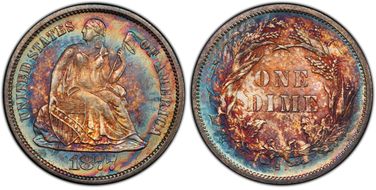 #1 MS67 PCGS grade

Bob R. Simpson Collection
#3 MS66+ PCGS grade
#3 MS66+ PCGS grade
#3 MS66 PCGS grade