1877 $3 MS62
Certification #10744069,
PCGS #7999
Owner's Comments
Prooflike with dark gold coloring
Expert Comments
David Akers (1975/88)
The 1877 is comparable in overall rarity to the 1865, which has a slightly lower mintage, and it is decidedly more rare than the lower mintage 1871. It is not, however, nearly as rare as the 1865 in choice condition. Overall, the 1877 ranks 9th in terms of total number of appearances in our 238 catalogue auction survey, but only 20th in terms of rarity according to average grade.
Proofs are readily distinguishable from business strikes by the location of the date. The date on the proofs is low in the field with the first 7 being just above the bow. On the business strikes, the date is higher in the field and is nearly centered bewteen the bow and the word DOLLARS.
Designer
James Barton Longacre
Diameter
20.50 millimeters
Metal
90% Gold, 10% Copper
Region
The United States of America
Price Guide
PCGS Population
Auctions - PCGS Graded
Auctions - NGC Graded
Rarity and Survival Estimates

Learn More
65 or Better
200
All Grades
20
60 or Better
0
65 or Better
R-7.0
All Grades
R-9.1
60 or Better
R-10.1
65 or Better
3 / 41
All Grades
7 / 41 TIE
60 or Better
1 / 41
65 or Better
3 / 41
All Grades
7 / 41 TIE
60 or Better
1 / 41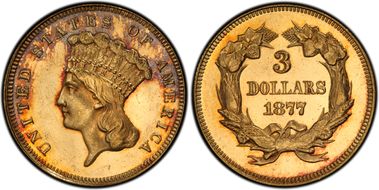 #1 MS64+ PCGS grade

David Akers' personal collection - Great Lakes Collection - Hanks & Associates, sold privately as an entire collection in 10/2005 - D. Brent Pogue Collection, Part III - Stack's/Bowers & Sotheby's 2/2016:3119, $70,500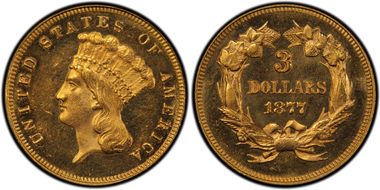 #2 MS64 PCGS grade

Stanley Kesselman, sold privately in 7/1974 - Harry W. Bass, Jr. Collection, Part II - Bowers & Merena 10/1999:696, $32,200 - Heritage 4/2001:2428, not sold - Heritage 5/2001:8913 - Heritage 6/2011:4602, $80,500 - D.L. Hansen Collection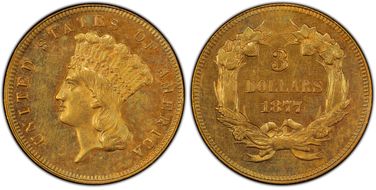 #3 MS62 PCGS grade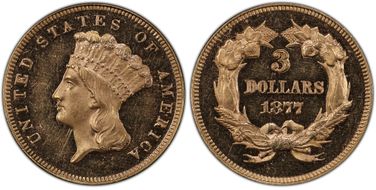 #3 MS62 PCGS grade
#3 MS62 PCGS grade