1878 50C MS62
Certification #33833010,
PCGS #6358
Expert Comments
Ron Guth
The 1878 Half Dollar has a slightly smaller mintage than many of its contemporaries yet it is still considered a "type" coin that garners no premium for additional scarcity. To my mind, that makes this date a good value compared to coins with larger mintages. This is not the last year of the design type, but it is the last year before mintages dropped off precipitously for the remainder of the series. Scores of Mint State examples exist, but they tend to be mid-range (MS63 or thereabouts). Gems are very scarce and any 1878 Half Dollar in MS66 is a condition-rarity.
The strike quality on this date is usually quite strong. Luster ranges from brilliant to frosty. This date is not known for being "baggy" but try to find coins that have nice surfaces.
Designer
Thomas Sully/Christian Gobrecht
Diameter
30.00 millimeters
Metal
90% Silver, 10% Copper
Region
The United States of America
Price Guide
PCGS Population
Auctions - PCGS Graded
Auctions - NGC Graded
Rarity and Survival Estimates

Learn More
65 or Better
900
All Grades
120
60 or Better
16
65 or Better
R-5.2
All Grades
R-7.8
60 or Better
R-9.3
65 or Better
25 / 45
All Grades
24 / 45
60 or Better
20 / 45 TIE
65 or Better
78 / 126 TIE
All Grades
89 / 126 TIE
60 or Better
63 / 126 TIE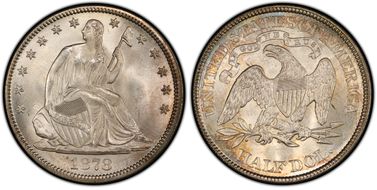 #1 MS66+ PCGS grade

"Perfection 8A" Collection (PCGS Set Registry)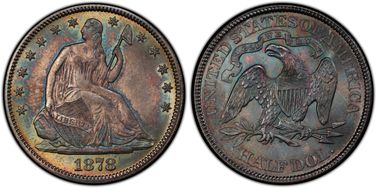 #2 MS66 PCGS grade

Jason Carter, sold privately in 5/2009 - Eugene H. Gardner Collection, Part I - Heritage 6/2014:30519, $21,150 - Heritage 3/2017:4060, $12,925
#2 MS66 PCGS grade

American Numismatic Rarities 8/2006:641, $6,210
#2 MS66 PCGS grade
#2 MS65 PCGS grade