1879-CC $10 XF45
Certification #50250987,
PCGS #8684
Owner's Comments
Allen Rowe Northern Nevada Coin
Expert Comments
Doug Winter
For many years, the 1879-CC was regarded as one of the key issues in the Carson City eagle series. It has lost some respect in the past decade as the true rarity of the 1870-CC and the 1873-CC have been better appreciated. That said, the 1879-CC is a rare coin in all grades and I believe that a case can be made for calling it the rarest issue in the series from the standpoint of total known. There were only 1,762 produced of which around four dozen are known today. Unlike the early dates of this denomination, the 1879-CC did not circulate as freely and survivors tend to be in the EF40 to AU50 range. Medium to high end AU's are very rare and in Uncirculated this date is unique with an NGC MS62 (discovered a few years ago in Alaska, of all places...) taking the honors. Nearly every 1879-CC eagle is heavily abraded and only a small number have original color and surfaces. The hair above Liberty's ear is usually very soft but the rest of the details tend to be sharp. In my opinion, this is a date that is waiting to be "rediscovered" and it deserves to be regarded as one of the great gold rarities from the CC mint.
Designer
Christian Gobrecht
Diameter
26.80 millimeters
Metal
90% Gold, 10% Copper
Region
The United States of America
Price Guide
PCGS Population
Auctions - PCGS Graded
Auctions - NGC Graded
Rarity and Survival Estimates

Learn More
65 or Better
56
All Grades
0
60 or Better
0
65 or Better
R-8.4
All Grades
R-10.1
60 or Better
R-10.1
65 or Better
8 / 117 TIE
All Grades
1 / 117
60 or Better
1 / 117
65 or Better
17 / 183 TIE
All Grades
1 / 183
60 or Better
1 / 183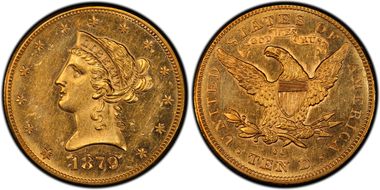 #1 AU58 PCGS grade

Harry W. Bass, Jr. Collection - "Northern California" Collection (PCGS Set Registry)
#1 AU58 estimated grade

Stack's/Bowers 8/2012:11744, not sold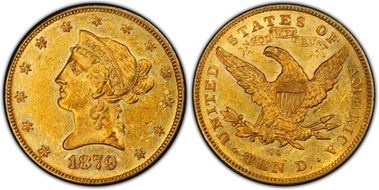 #3 AU55 PCGS grade

Orange County Collection - Doug Winter - Pinnacle Rarities - Old West Collection - American Numismatic Rarities 8/2006:1350, $32,200 - David Hall Collection - Bob R. Simpson Collection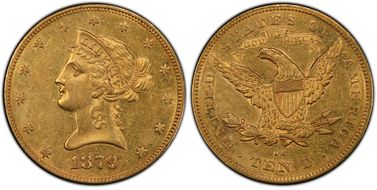 #3 AU55 PCGS grade
#3 AU55 PCGS grade