1879-O $1 MS65+
Certification #27901551,
PCGS #7090
Expert Comments
Q. David Bowers
The following narrative, with minor editing, is from my "Silver Dollars & Trade Dollars of the United States: A Complete Encyclopedia" (Wolfeboro, NH: Bowers and Merena Galleries, Inc., 1993).
Coinage Context
Mint reopened: The New Orleans Mint, closed in 1861 at the beginning of the Civil War, was reopened in 1879, at which time most production consisted of Morgan silver dollars. It is believed that 12 Proofs were struck on February 20, 1879 to observe the reopening.
Numismatic Information
Commentary: Perhaps because it was made early in the series and there was call for coins in circulation in the Mississippi Valley area, many 1879-O dollars were paid out into circulation at or near the time of striking. Even so, just a part of the mintage was distributed.
Hoard coins: I have no specific record of early Treasury releases, but quantities must have filtered onto the market over a long period of time. By the late 1940s and early 1950s, 1879-O Morgan dollars were considered to be on the scarce side and were not among issues recently released in mint-sealed bags. This changed in 1957 when an estimated five to 10 bags came out and went into the hands of dealers, who stocked them primarily in roll (rather than bag) quantities. The price of single coins, which had been in the $10 to $15 range for most of the decade up to that point, dropped to the $3 level, then even lower. In the September 1957 issue of The Numismatist, Harry J. Forman advertised that he had 1879-O dollars in quantity. In March 1958, Dan's (Dan Morafka) was retailing 20-coin rolls at $37 each, which was equivalent to $1.85 per coin.
Multiple bags of 1,000 Uncirculated coins came to light in October 1962 and with other New Orleans dollars were among the first of the Treasury releases that led to the depletion of the government supply of dollars. Releases of 1879-O continued well into the summer of 1963. However, the total quantity eventually released did not even remotely compare to such plentiful issues as 1883-O, 1884-O, 1885-O, 1898-O, 1903-O, and 1904-O. For some reason, 1879-O dollars did not get into the numismatic mainstream of bulk investment and dealer sales. Perhaps most went to banks in remote areas. In time, the 1879-O once again became scarce in quantity lots.
Around 1975, Harry J. Forman bought a bag of 1879-O dollars from the estate of Paul Dinerman, of Philadelphia.' Earlier, this had come from the 1962-1964 Treasury release. John Kamin's commentary: Some Uncirculated 1879-O coins were found mixed in with other contemporary issues. Apropos of this, John V. Kamin wrote the following: "I had the chance to go through many bags of O-Mint silver dollars with mint seals from the New Orleans Mint or the Federal Reserve, bags sealed up in 1880, 1881, 1882. Estimated over 90% of the contents of these bags was 1881-O, 1882-O silver dollars, with the rest evenly split between 1880-O and 1879-O. I've always assumed that the storage vault was flooded, that the original bags rotted. And, since manual counting of coins was the way it was done in those days, the coins were later quickly counted and scooped into new cloth bags, without regard to date in the early 1880s.
Just a few mint bags consisting solely of 1879-O silver dollars came out, and those had different seals on them. They were all Uncirculated, not mixed dates, all the same coins in the bag. Those coins were of a much higher quality. They weren't water-marked, and commanded a premium, up to triple face value at a time when most Morgans couldn't even bring 50% over face value. They were obviously Uncirculated, compared to those mixed O-Mint bags that were 'probably roughly scooped, handled, and maybe even shoveled more than once.
Circulated grades: Wayne Miller wrote this in 1982:
The 1879-O is very common in AU condition. The reason is that the 1879-O, like the 1880-O, 1881-O, and 1882-O, was released' into circulation in the New Orleans area in large quantities soon after striking. For reasons which have never been explained, these dollars were then gathered up after they had been lightly circulated, brought back to the Mint, and resealed into Mint bags. Mint sealed bags of these dates often contain over 90% lightly circulated pieces, including a few dollars from the Philadelphia, San Francisco, and Carson City mints, which happened to be circulating in the New Orleans area at the time of recall. Because of the preponderance of AU 1879-O dollars, always examine them carefully. Check the breast feathers for wear.
Dean Tavenner calls the higher grade AU coins "two-beer" dollars, which is his term for coins which circulated briefly, perhaps just long enough to buy two beers, after which they went back to banks and were resewn into bags, like (and sometimes with) similar New Orleans Mint dollars of later dates.
Mint State grades: The 1879-O dollar is easily located in lower Mint State grades of MS-60 through MS-62. At the MS-63 level it becomes slightly scarce. In MS-64 grade the 1879-O is firmly in the scarce category. At the MS-65 plateau it is a candidate for a photograph and detailed description in an auction catalogue, for probably fewer than 500 such coins exist.
Population estimates follow: MS-60 to 62, 40,000 to 70,000; MS-63, 20,000 to 30,000; MS-64, 4,000 to 8,000; and MS-65 or better, only 350 to 500.
Most 1879-O dollars seen on the market today are of average to above average striking detail, although many exceptions occur to either side-weakly detailed or sharply detailed. Most coins have attractive frosty surfaces. Although variations in mintmark sizes exist (see below), nearly all collectors, apart from VAM enthusiasts, are content to include just one example of the 1879-O in their holdings.
Prooflike coins: Many prooflike coins exist, a good number of which have cameo contrast. Most are in lower grade levels such as MS-60 to MS-62, are extensively bagmarked, and are not particularly attractive. Probably, 2,000 to 4,000 are known, of which 98% or more are less than MS-65 PL. Numerous AU coins, called "sliders" years ago on the market, are likewise prooflike. DMPL coins are about three times rarer than PLs.
Varieties
Circulation strikes:
1. Medium oval O: Breen-5527, various VAM varieties. Minority of this date. Many "sliders" and bagmarked Uncirculateds exist.
2. Tall O: Breen-5529. Various VAM varieties. Sliders are' common as above, gems scarce, prooflikes less so but often heavily bagmarked, DMPLs more so and are mostly mediocre.
3. 1879-O Triple punched O: Breen-5528, VAM-4, Fivaz & Stanton $1.00-002, To quote Fivaz and Stanton: "The original description of this variety read that the O mintmark was first punched into the die in a horizontal position. It was corrected; the remnants of the previous 0 are clearly seen in the center of the mintmark .... Many specialists feel this is actually an O/O/O north and south, because of the convex configuration of the weaker images within the main O." However, Jeff Oxman, of the Society of Silver Dollar Collectors, takes this view:' "The preponderance of opinion on this variety remains that it is an '0 over horizontal 0' variety. True, it is the only such case in the Morgan dollar series, but that is not a compelling reason for rejecting the hypothesis. It is scarce in all circulated grades, and fewer than a dozen Mint State coins have been identified."
Usually found EF or AU, and relatively scarce as such. Rare in Mint State.
Dies prepared: Obverse: Unknown; Reverse: Unknown.
Circulation strike mintage; 2,887,000
Estimated quantity melted: Unknown
Availability of prooflike coins: Many exist, a good number of which have cameo contrast. Most are in lower grade levels, however, and are extensively bagmarked. DMPL. coins are about three times rarer. Characteristics of striking: Most are average to above average. Known hoards of Mint State coins: Many bags were released by the Treasury beginning in October 1962. Commentary This is the first New Orleans Mint Morgan dollar and the first coin of the denomination to be struck at that location since the 1860-O Liberty Seated issue. The two sizes of O mintmark were advertised as early as 1955 by Norman Schultz (The Numismatist 11/55). They were unknown to A.G. Heaton (1893) but their actual discoverer is unknown-possibly Howard Newcomb, like other mintmark size changes of later years.
Additional Information
Reopening the New Orleans Mint
In the Annual Report of the Director of the Mint, 1878, it was stated that in the preceding session of Congress provision was made to reopen the New Orleans Mint, but no money was to be expended until the City of New Orleans "should release all title and claim and all conditions of forfeiture to the lands or premises upon which the Mint is located." Further:
"During the late war much of the machinery, apparatus, &c., had been injured and otherwise rendered ineffective from disuse and other causes incident to war, and extensive repairs besides additional machinery were required. As soon as the title to the property had been secured to the government, and the officers of the mint had been appointed, the necessary repairs were commenced, but they have been impeded to a considerable extent by the prevalence of yellow fever in New Orleans, which not only delayed the repairs but prevented skilled mint operatives from going to that city until the epidemic should subside. As many mint operations require special skill and knowledge on the part of the operatives, a few of the appointees to that mint were assigned to duty at the mint in Philadelphia in order to familiarize themselves with the work which they will be called upon to perform, and will be transferred to New Orleans as soon as it is safe for them to go there.
"The various operative rooms in the mint have been placed in good condition, the melting ami annealing furnaces restored, the engine and machinery repaired, and such additional machinery as is required to tender this mint effective for coinage has been procured, and it is believed that by the end of the current calendar year everything pertaining to the mint will be in a condition to commence coinage. The New Orleans Mint will add to the coining capacity of the mints about $1 million in silver dollars per month, but this capacity would be somewhat reduced if called upon to execute any considerable amount of gold or fractional silver' coinage."
However, conditions were not such that New Orleans could begin coinage in 1878. As the director of the Mint noted, hopes were high that operations could commence "by the end of the current calendar year." As it turned out, no New Orleans mintage of any denomination took place until 1879.
1879 Report on the New Orleans Mint
The Annual Report of the Director of the Mint 1879, told of events at New Orleans during the fiscal year ended June 30th:
"Mint at New Orleans.-At the second session of the Forty-fifth Congress provision was made for reopening this mint for coining purposes. The refitting and furnishing of the machinery was delayed by the yellow fever epidemic, but as soon as it was safe to do so experienced mechanics and others from the mints were sent to superintend the repairing of old and erection of new machinery, which had been procured. The superintendency was assumed by Henry S. Foote in December 1878, and coinage operations commenced February 20, 1879.
"The mint has not been worked to its full capacity, for the reason that like difficulty has been experienced as at San Francisco and Garson in procuring supplies of silver bullion."
Designer
George T. Morgan
Diameter
38.10 millimeters
Metal
90% Silver, 10% Copper
Region
The United States of America
Price Guide
PCGS Population
Auctions - PCGS Graded
Auctions - NGC Graded
Rarity and Survival Estimates

Learn More
65 or Better
398600
All Grades
73600
60 or Better
990
65 or Better
R-1.7
All Grades
R-2.2
60 or Better
R-5.0
65 or Better
60 / 117 TIE
All Grades
57 / 117 TIE
60 or Better
41 / 117 TIE
65 or Better
60 / 117 TIE
All Grades
57 / 117 TIE
60 or Better
41 / 117 TIE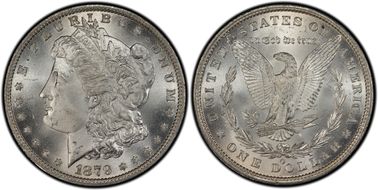 #1 MS66+ PCGS grade

Jack Lee Collection - Coronet Collection - Legend Rare Coin Auctions 6/2015:9, $29,375 - Kennedy Collection (PCGS Set Registry)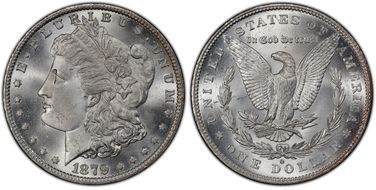 #1 MS66+ PCGS grade

Heritage 1/2018:4927, $21,600 - Magnificent Morgans Collection (PCGS Set Registry)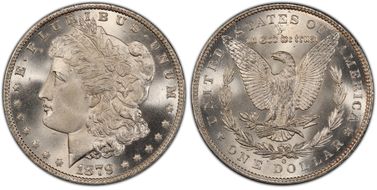 #1 MS66+ PCGS grade

Vanderbilt Collection (PCGS Set Registry)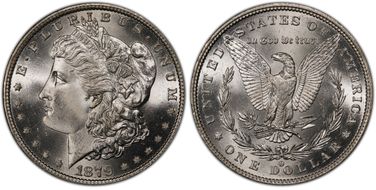 #1 MS66+ PCGS grade

Wurt Collection (PCGS Set Registry)
#1 MS66+ PCGS grade