1882-O $1 MS64
Certification #84746185,
PCGS #7136
Owner's Comments
Dr. Morganstein strikes again!
Expert Comments
Ron Guth
The 1882-O Silver Dollar is a common date but, because it comes from the New Orleans Mint, it is difficult to locate in Gem condition. The typical Mint State grade for an 1882-O Morgan Dollar is MS-63, reflective of the typical poor strike associated with this mint. Almost 700 MS-65 examples have been certified by PCGS (as of July 2012), but high collector demand means they can be elusive and expensive. MS-66 examples are super-scarce and anything better is ultra-rare. The finest example certified by PCGS is a single, monstrous MS-68 formerly in Jack Lee's set.
Designer
George T. Morgan
Diameter
38.10 millimeters
Metal
90% Silver, 10% Copper
Region
The United States of America
Price Guide
PCGS Population
Auctions - PCGS Graded
Auctions - NGC Graded
Rarity and Survival Estimates

Learn More
65 or Better
498000
All Grades
250000
60 or Better
2675
65 or Better
R-1.6
All Grades
R-1.8
60 or Better
R-4.4
65 or Better
65 / 117 TIE
All Grades
89 / 117 TIE
60 or Better
67 / 117 TIE
65 or Better
65 / 117 TIE
All Grades
89 / 117 TIE
60 or Better
67 / 117 TIE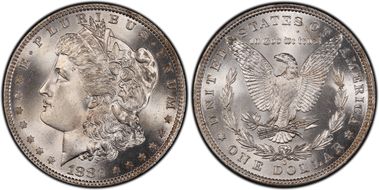 #1 MS68+ PCGS grade

Jack Lee Collection - Sanderson Family Collection - Heritage 1/2009:4959, $46,000 - Coronet Collection - Legend Rare Coin Auctions 6/2015:22, $108,687.50
#2 MS67+ PCGS grade
#3 MS67 PCGS grade
#3 MS67 PCGS grade
#3 MS67 PCGS grade