1882 $3 MS64
Certification #18588508,
PCGS #8004
Owner's Comments
Fully struck, mellow gold coloring, with proof-like appearance.
Expert Comments
David Akers (1975/88)
Along with the 1879 and 1880, the 1882 is seen more often in choice condition than one might normally expect from the very low mintage. I am unaware of any hoards of this date as there were in the case of the 1879 and 1880, but for some reason there is a relatively large number of very choice specimens available. This date has also been widely counterfeited and, unfortunately, the fakes of this date are among the most deceptive that I have seen. All of the business strike 1882's that I have encountered have had an abnormality under the 2 in the date. It appears as though it might have been a 2 that was originally punched too high and for this reason it has often been called the "High 2" variety. A number of fully proof-like first strikes exist of this date. Of course, if a particular coin is the High 2 variety, it is not a proof, since as I indicated in my book on quarter eagles, it is my opinion that proofs and business strikes of gold coins were never struck from the same dies.
Designer
James Barton Longacre
Diameter
20.50 millimeters
Metal
90% Gold, 10% Copper
Region
The United States of America
Price Guide
PCGS Population
Auctions - PCGS Graded
Auctions - NGC Graded
Rarity and Survival Estimates

Learn More
65 or Better
1000
All Grades
225
60 or Better
12
65 or Better
R-5.0
All Grades
R-6.7
60 or Better
R-9.5
65 or Better
26 / 41 TIE
All Grades
30 / 41
60 or Better
16 / 41 TIE
65 or Better
26 / 41 TIE
All Grades
30 / 41
60 or Better
16 / 41 TIE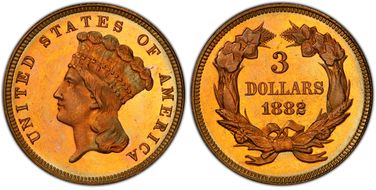 #1 MS67 PCGS grade

David & Sharron Akers Collection - Heritage 1/2014:5396, $105,750 - Bob R. Simpson Collection - Legend Rare Coin Auctions 5/2014:399, $94,000 - D.L. Hansen Collection
#1 MS67 PCGS grade

Richard C. Jewell Collection - American Numismatic Rarities 3/2005:651, $72,450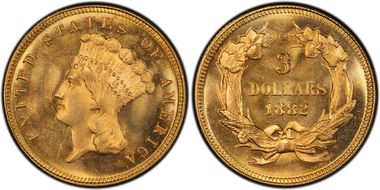 #3 MS66+ PCGS grade

Great Lakes Collection - Hanks & Associates, sold privately as an entire collection in 10/2005 - D. Brent Pogue Collection - Stack's/Bowers & Sotheby's 2/2016:3124, $29,375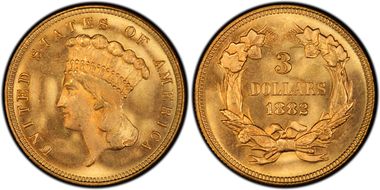 #4 MS66 PCGS grade

High Desert Collection (PCGS Set Registry)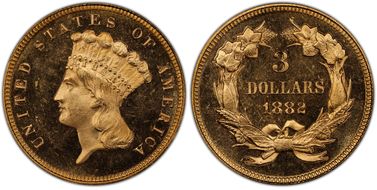 #4 MS66 PCGS grade

Jim Dixon Collection (PCGS Set Registry)