1883-CC $5 MS61
Certification #25305632,
PCGS #8362
Owner's Comments
Allen Rowe Northern Nevada Coin CAC
Expert Comments
David Akers (1975/88)
The 1883-CC is very rare and underrated in all grades. It is much more rare than the 1879-CC, 1880-CC, 1882-CC or any Carson City Half Eagle of the 1890's and is nearly as rare as the 1881-CC. I have seen only two strictly uncirculated examples. This is one of the most underrated dates of the series.
Designer
Christian Gobrecht
Diameter
21.65 millimeters
Metal
90% Gold, 10% Copper
Region
The United States of America
Price Guide
PCGS Population
Auctions - PCGS Graded
Auctions - NGC Graded
Rarity and Survival Estimates

Learn More
65 or Better
137
All Grades
4
60 or Better
0
65 or Better
R-7.6
All Grades
R-9.8
60 or Better
R-10.1
65 or Better
29 / 106 TIE
All Grades
14 / 106 TIE
60 or Better
1 / 106
65 or Better
71 / 218 TIE
All Grades
31 / 218 TIE
60 or Better
1 / 218
#1 MS63 estimated grade
#1 MS63 PCGS grade

Superior 2/1992:2699 - New Jersey dealer - Bowers & Merena 1/1994:1413 - Bowers & Merena 7/2002:620 - Douglas Winter, 12/2002 - Battle Born Collection - Stack's/Bowers 8/2012:11014, $44,062.50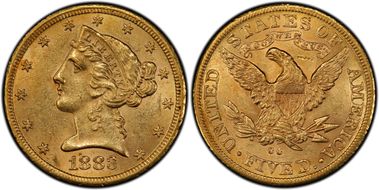 #3 MS61 PCGS grade
#3 MS61 PCGS grade

Goldbergs 2/2007:2344, $14,950
#3 MS61 PCGS grade