1885-CC $20 AU55
Certification #10007572,
PCGS #9004
Owner's Comments
Allen Rowe Northern Nevada Coin
Expert Comments
David Akers (1975/88)
This date ranks in the top third of all Carson City Mint Double Eagles in terms of overall rarity. It is only a little less rare as a date than the 1878-CC and 1879-CC but it is decidedly more "common" than either in high grade, i.e. AU or Unc. When available, the 1885-CC is typically EF although a number of VF specimens also exist. AU's are also seen from time to time but in full mint state the 1885-CC is definitely rare. I have seen a few Unc-60 specimens as well as a couple of choice Unc. examples but I have never seen or heard of a real gem.
Designer
James Barton Longacre
Diameter
34.00 millimeters
Metal
90% Gold, 10% Copper
Region
The United States of America
Price Guide
PCGS Population
Auctions - PCGS Graded
Auctions - NGC Graded
Rarity and Survival Estimates

Learn More
65 or Better
393
All Grades
51
60 or Better
0
65 or Better
R-6.2
All Grades
R-8.4
60 or Better
R-10.1
65 or Better
8 / 73 TIE
All Grades
12 / 73 TIE
60 or Better
1 / 73
65 or Better
24 / 148 TIE
All Grades
52 / 148 TIE
60 or Better
1 / 148
#1 MS63 PCGS grade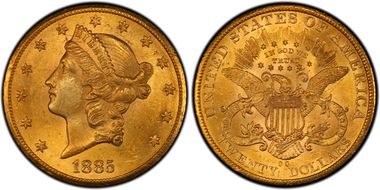 #2 MS62 PCGS grade
#2 MS62 PCGS grade

Goldbergs 2/2007:2553, $27,600 - Bowers & Merena 8/2007:1944 - William Porter Collection - Stack's/Bowers 8/18/2011:7778, $37,375 - Rusty Goe, sold privately in 8/2011 - Battle Born Collection - Stack's 8/2012:11052, $57,500
#2 MS62 PCGS grade

Stack's/Bowers 3/2015:6109, $61,687.50
#2 MS62 PCGS grade