1886 $1 MS68
Certification #05700112,
PCGS #7166
Expert Comments
Q. David Bowers
The following narrative, with minor editing, is from my "Silver Dollars & Trade Dollars of the United States: A Complete Encyclopedia" (Wolfeboro, NH: Bowers and Merena Galleries, Inc., 1993)
Coinage Context
Record breaking: The coinage of 19,963,000 circulation strike silver dollars at the Philadelphia Mint in 1886 broke all previous production records for the denomination. However, in the following year, 1887, the Philadelphia Mint would go on to still another high.
President no fan of dollars: President Grover Cleveland stated the following.(As quoted by Chester West in "Chester West Tells It As It Is-Of Federal and State Government Regulations," in The Comprehensive U. S. Silver Dollar Encyclopedia.)
Last year we spent 23 million dollars plus labor and storage for silver dollars that no one wants. Now we have 247 million of them. This gamble on a silver price increase is a bust. In the beginning, when we bought the silver, the dollar content was 94.5 cents. On the 31st day of July 1886, silver dropped to its lowest price. Now these things are only worth 78 cents.
Numismatic Information
Hoard coins: Quantities of 1886 dollars were re-leased by the Treasury over a long period of years, with a large number coming out in 1951, 1952, and, especially, December 1954. Within the memory of any numismatists living today, the 1886 Philadelphia issue has been one of the most common issues in just about any grade from well-worn to MS-65. In 1962-1964 more bags were set free by the Treasury, some of which ended up in the coffers of the Continental-Illinois Bank.
In the 1950s, anyone finding a $1,000 bag of 1886 dollars would "throw it back" to the bank, like a fisherman tossing back an undersized trout. Bags of these and most other early Philadelphia Mint Morgan dollars were not wanted, even for face value. If a buyer could be found - and I remember the situation well - a good wholesale price would be $1,100.
Circulated grades: 1886 dollars are very common in worn grades.
Mint State grades: Mint State 1886 dollars are very common. Examples are frequently encountered in all grades from MS-60 through MS-64, and even MS-65 coins are easy to find. Only the 1887 rivals the 1886 in availability among Philadelphia Mint dollars dated before 1921.
Many 1886 dollars are very well struck and have much lustre, although the lustre is often more satiny or "greasy" than deeply frosty. Other coins are poorly struck, particularly at the center of the reverse. Some coins have irregular "metal flow" granularity, especially in the fields and at the borders, and are not numismatically appealing. All in all, there is a very wide variation in quality among Mint State dollars of this date. Careful buying is advised, especially if you are at all concerned with aesthetics. In the same technical numerical grade, a poorly struck coin with unattractive surfaces might not be worth half as much as a sharply struck, lustrous gem.
Prooflike coins: While semi-prooflike and prooflike coins are very common, high-grade cameo DMPL coins with good striking characteristics are rare. Hundreds in the latter category exist.
Varieties
Circulation strikes:
1. Normal date: Probably all the 63 obverses and 60 reverses were used until they were worn out. The two distinct styles of date, Even 6, Breen-5586 and High 6, Breen-5588 (VAM-6, 8), apparently represent two different logotypes; which is scarcer has not been determined. The last two shown to Walter H. Breen as "1886/5" had high 6 punched over lower 6; apparently, this is more wishful thinking, than an overdate. High 6 normally has closed 6; Even 6 comes open (e.g., VAM-7) or closed. Some varieties have interesting die chips and gouges around the date and elsewhere.
Dies prepared: Obverse: 63; Reverse: 60
Circulation strike mintage: 19,963,000; Delivery figures by month: January: 1,700,000; February: 1,700,000; March: 1,700,000; April: 1,700,000; May: 1,700,000; June: 1,563,000; July: 1,600,000; August: 1,800,000; September: 1,900,000; October: 1,800,000; November: 1,400,000; December: 1,400,000.
Estimated quantity melted: Millions at various times, probably including under the 1918 Pittman Act and certainly during the run-up in silver prices in the late 1970s.
Availability of prooflike coins: Semi-prooflike and prooflike coins are common but usually have low contrast. High-grade cameo DMPL coins are elusive, but hundreds exist MS-65 DMPL or finer.
Characteristics of striking: Striking varies from weak to sharp, with most coins being average.
Known hoards of Mint State coins: Many bags were released in the 1930s, 1940s, December 1954, and 1962-1964.
Commentary
The 1886 is one of the most common of all Morgan dollars and is readily available in all grades from worn through MS-65.
Designer
George T. Morgan
Diameter
38.10 millimeters
Metal
90% Silver, 10% Copper
Region
The United States of America
Price Guide
PCGS Population
Auctions - PCGS Graded
Auctions - NGC Graded
Rarity and Survival Estimates

Learn More
65 or Better
2000000
All Grades
775000
60 or Better
62000
65 or Better
R-1.0
All Grades
R-1.3
60 or Better
R-2.3
65 or Better
94 / 117 TIE
All Grades
111 / 117 TIE
60 or Better
109 / 117
65 or Better
94 / 117 TIE
All Grades
111 / 117 TIE
60 or Better
109 / 117
#1 MS68+ PCGS grade
#2 MS68 PCGS grade

R. Dier - Gold River Collection (PCGS Set Registry)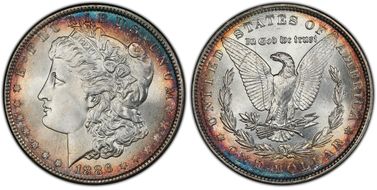 #2 MS68 PCGS grade

Heritage 1/2018:4935, $22,800 - D.L. Hansen Collection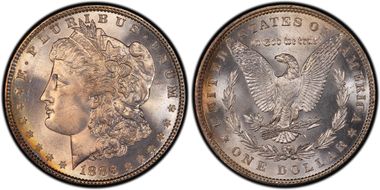 #2 MS68 PCGS grade

Heritage 11/2006:1295, $14,950 - Coronet Collection - Legend Rare Coin Auctions 6/2015:37, $27,025 - Wizard of Oz Collection (PCGS Set Registry)
#2 MS68 PCGS grade