1886 5C MS66
Certification #24085344,
PCGS #3847
Expert Comments
Ron Guth
Most collectors consider the 1886 Nickel to be a key issue in the Liberty Head series. Price guides reflect this opinion and place it behind the 1885 and the 1912-S as the third most valuable date. However, in terms of certified examples, this is one of the more common dates in the series, illustrating the power of mintage figures, which have been used traditionally, as an important factor in concluding which coins are rare and which coins are not. As far as Mint State examples go, the 1886 is slightly more "common" than the 1885, but no MS67 1886 Nickels have been certified by PCGS, compared to 2 for the 1885.
Strike quality is a factor on this date, as many examples show weakness on the radial line on some (or many) of the stars. Also, keep an eye on that ear of corn on the lower left reverse, as this is often weak, too.
Designer
Charles E. Barber
Diameter
21.20 millimeters
Metal
75% Copper, 25% Nickel
Region
The United States of America
Price Guide
PCGS Population
Auctions - PCGS Graded
Auctions - NGC Graded
Rarity and Survival Estimates

Learn More
65 or Better
8000
All Grades
750
60 or Better
100
65 or Better
R-3.4
All Grades
R-5.5
60 or Better
R-8.0
65 or Better
3 / 32
All Grades
1 / 32 TIE
60 or Better
1 / 32
65 or Better
3 / 33
All Grades
1 / 33 TIE
60 or Better
1 / 33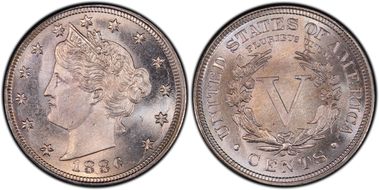 #1 MS67 PCGS grade

Greenbrier River Collection (PCGS Set Registry)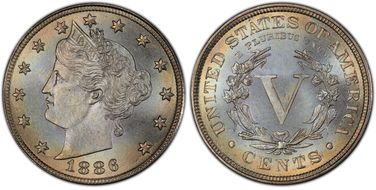 #1 MS67 PCGS grade

Carnton Collection, Part II - Heritage 11/2017:16658, $34,800 - Legend Rare Coin Auctions 9/2018:270, $64,625
#3 MS66+ PCGS grade

Rafferty Collection - Heritage 1/2018:4775, $33,600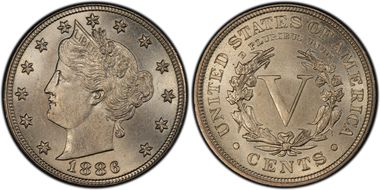 #4 MS66 PCGS grade

Stack's/Bowers 2/2015:1344, $22,325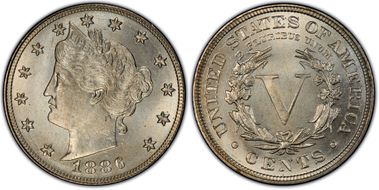 #4 MS66 PCGS grade