1886-S $1 MS66
Certification #26197288,
PCGS #7170
Expert Comments
Q. David Bowers
The following narrative, with minor editing, is from my "Silver Dollars & Trade Dollars of the United States: A Complete Encyclopedia" (Wolfeboro, NH: Bowers and Merena Galleries, Inc., 1993)
Coinage Context
Low mintage: The San Francisco Mint produced the smallest number of silver dollars in 1886 of any year since the inception of the Morgan series.
Numismatic Information
A former rarity: If you were to have been in B. Max Mehl's office in Fort Worth in November 19l4, when the A.C. Nygren mail bid sale was closing, you would have found it perfectly normal that the highest price on the books for a Morgan dollar was $26.50 for an Uncirculated 1886-S, for at the time this was one of the prime rarities in the Morgan series, exceeded in desirability only by the 1889-S (of which Nygren did not have an example). As years went on, additional coins were released from storage, and the 1886-S slipped from its position. Today, the 1886-S, while scarce, occasionally is available in roll quantities.
Hoard coins: 1886-S silver dollars were minted in relatively low quantities to begin with; indeed, to this point in time in the Morgan series it is the only issue with a mintage on the low side of the million mark. Apparently, very few were released into circulation near the time of striking. It is believed that hundreds of thousands were melted under the 1918 Pittman Act provisions, although it is not possible to verify this today. In the mid-1920s, additional coins were released into circulation from storage at the San Francisco Mint. Beginning about 1942 and lasting until the late 1950s, bags were available at face value, with few takers. John Skubis, for one, recalls turning such bags back for face value. Although there was a decent market for singles and a slight market for rolls, few investors wanted bags. Those who might have-such as Nevada casino operators-could get them at face value without going through a coin dealer.
In addition to the coins paid out by the San Francisco Mint, scattered bags were released by banks in the West, including some in Montana in 1956. The 1962-1964 Treasury release included some 1886-S dollars, but probably not many.
It is said that the Redfield estate hoard had 3,000 or more coins (three or more bags) grading MS-60 to MS-63 by later standards, and this is probably the main source for pieces seen on the market today.
Circulated grades: Circulated specimens of 1886-S dollars were rare until the late 1920s, by which the relatively few put into circulation before then were augmented by new releases. Today, 1886-S dollars in worn grade are scarce but readily available, especially in higher grades from VF through AU. The population of 20,000 to 40,000 worn coins surviving today is probably mainly derived from coins put into circulation after the 1920s.
Mint State grades: Mint State 1886-S dollars are in the scarce, not rare, category. Most are of attractive appearance and are well struck, although some show raised lines in the fields, from die polishing (not to be confused with hairlines from cleaning, which are recessed). Most exist in lower grade ranges such as MS-60 through 62 or 63. MS-64 coins are somewhat scarce, and MS-65 examples are rare (in the context of the series). I suggest that perhaps 800 to 1,400 MS-65 coins are known.
Probably, most of the quantities sold in the 1950s have disappeared "into the woodwork." The issue is not as readily available as my population estimates may lead you to believe. The low mintage figure of just 750,000 coins adds appeal to any Mint State 1886-S dollar, and for this reason the variety has always been popular in the investment market.
Prooflike coins: Prooflike 1886-S dollars are not rare, especially in lower grades, especially at the MS-63 and MS-64 levels. The Redfield hoard is said to have had several 'hundred such coins. Many prooflikes offered on the market are one sided. Cameo contrast DMPL coins are rare in MS-65 preservation, and only a few remain.
Varieties
Circulation strikes:
1. Normal date: Breen-5591. Several minor varieties exist, including one (VAM-2) with repunching on the S mintmark; this is considered to be the most desirable die variety.
Dies prepared: Obverse: Unknown; Reverse: Unknown.
Business strike mintage: 750,000; Delivery figures by month: January-September: none; October: 300,000; November: 300,000; December: 150,000.
Estimated quantity melted: Probably 200,000 to 400,000 under the Pittman Act of 1918.
Availability of prooflike coins: Prooflike examples are scarce; most have bagmarks and are in lower grades. Cameo DMPL coins in high grades are rare.
Characteristics of striking: This issue is nearly always well struck.
Known hoards of Mint State coins: Quantities released by the Treasury during the 1940s and 1950s are mostly dispersed by now.
Commentary
In higher Mint State levels the 1886-S dollar is somewhat scarce. High-grade coins are usually well struck and very attractive.
Designer
George T. Morgan
Diameter
38.10 millimeters
Metal
90% Silver, 10% Copper
Region
The United States of America
Price Guide
PCGS Population
Auctions - PCGS Graded
Auctions - NGC Graded
Rarity and Survival Estimates

Learn More
65 or Better
75000
All Grades
40000
60 or Better
1125
65 or Better
R-2.2
All Grades
R-2.6
60 or Better
R-4.9
65 or Better
31 / 117
All Grades
42 / 117 TIE
60 or Better
45 / 117 TIE
65 or Better
31 / 117
All Grades
42 / 117 TIE
60 or Better
45 / 117 TIE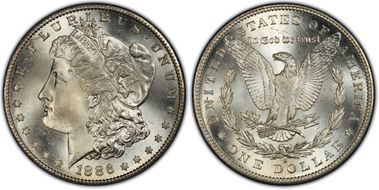 #1 MS67 PCGS grade

R. Dier - Gold River Collection (PCGS Set Registry)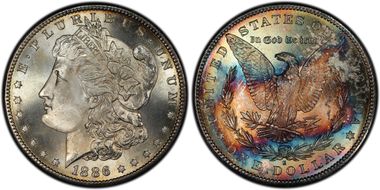 #1 MS67 PCGS grade

Jack Lee (PCGS Tour) - Arno Collection - Heritage 1/2009:4979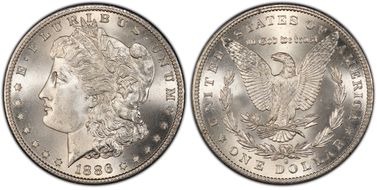 #1 MS67 PCGS grade

Heritage 10/2016:3228, $39,950 - Five Generations of Eby Collection - Heritage 1/2019:4566, $55,200
#1 MS67 PCGS grade
#1 MS67 PCGS grade