1886-S 10C MS65
Certification #04363344,
PCGS #4697
Owner's Comments
Mintage: 206,524
Obverse Dies: 2 Known

1886 San Francisco coinage is scarce in circulated grades, becoming rare in Mint State. It is slightly more difficult to locate in circulated grades than 1884 San Francisco examples.

One of the two obverse dies is rarely seen and should bring a substantial premium would located. This rare 1886-S variety has a level date that is positioned further right than the commonly seen 1886-S obverse.

Plate Coin: Fortin 101, Fully lustrous, toned with variegated deep rose and steel-blues that are lighter on the reverse, sharply struck throughout.
Expert Comments
Ron Guth
The 1886-S Dime has a relatively small mintage and low survival rate, making it the third or fourth most important Dime of the 1875-1891 period. The 1886-S Dime tracks the 1884-S Dime (another low date) in terms of overall rarity. For instance, in Mint State, the populations of each are very close, but the 1886-S trends toward higher grades. In fact, the PCGS CoinFacts Condition Census starts at MS66 and tops out at MS68, which is exceptionally high for a Dime from this era.
Designer
James Barton Longacre
Diameter
17.90 millimeters
Metal
90% Silver, 10% Copper
Region
The United States of America
Price Guide
PCGS Population
Auctions - PCGS Graded
Auctions - NGC Graded
Rarity and Survival Estimates

Learn More
65 or Better
350
All Grades
50
60 or Better
20
65 or Better
R-6.3
All Grades
R-8.5
60 or Better
R-9.1
65 or Better
22 / 67
All Grades
22 / 67 TIE
60 or Better
37 / 67 TIE
65 or Better
37 / 122 TIE
All Grades
46 / 122 TIE
60 or Better
74 / 122 TIE
#1 MS68 PCGS grade

Superior 7/2003:1009, $17,250 - Oliver Jung Collection - American Numismatic Rarities 7/2004:42, $21,850 - Heritage 2/2006:758, $22,425 - Heritage 4/2006:1246, $23,000 - Hansin Collection (PCGS Set Registry)
#1 MS68 PCGS grade
#3 MS67+ PCGS grade

Legend Rare Coin Auctions 6/2019:179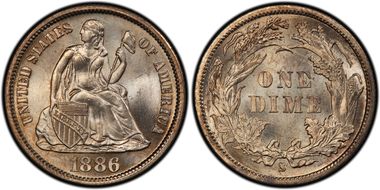 #4 MS67 PCGS grade

Heritage 10/2001:6014, $6,900 - Heritage 2/2002:5511, $5,463 - Eugene H. Gardner Collection, Part II - Heritage 10/2014:98282, $8,813 - Woodland Collection (PCGS Set Registry)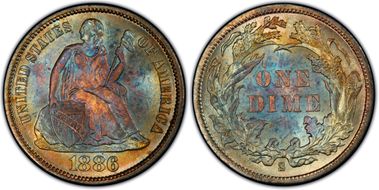 #4 MS67 PCGS grade

Bob R. Simpson Collection