1889 $1 AU58
Certification #38726186,
PCGS #7188
Expert Comments
Ron Guth
The 1889 Silver Dollar is a very common coin, with literally tens of thousands of certified Mint State examples available. Thousands of MS65 examples have been certified by PCGS, as have hundreds of MS66 and better examples. Where this date gets really rare is at the MS67 level. The finest example is a single PCGS MS68.
Cameo and Deep Cameo examples represent a mere fraction of the total population, but they are still readily available in the market. Both Cameo and Deep Cameo examples can be found up through MS66, but no further.
Designer
George T. Morgan
Diameter
38.10 millimeters
Metal
90% Silver, 10% Copper
Region
The United States of America
Price Guide
PCGS Population
Auctions - PCGS Graded
Auctions - NGC Graded
Rarity and Survival Estimates

Learn More
65 or Better
2200000
All Grades
200000
60 or Better
6700
65 or Better
R-1.0
All Grades
R-1.9
60 or Better
R-3.6
65 or Better
94 / 117 TIE
All Grades
75 / 117 TIE
60 or Better
79 / 117 TIE
65 or Better
94 / 117 TIE
All Grades
75 / 117 TIE
60 or Better
79 / 117 TIE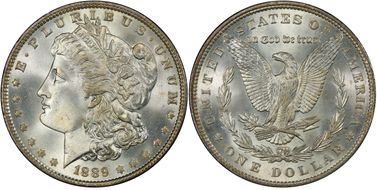 #1 MS68 PCGS grade

Jack Lee 1/Jack Lee 2 Collections - Sanderson Family Collection - Heritage 1/2009:4986, $25,300 - Gold River Collection (PCGS Set Registry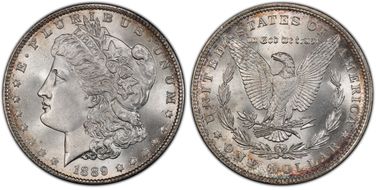 #2 MS67 PCGS grade

David Lawrence 6/2018:1490503, $17,000 - Gjgott Collection (PCGS Set Registry)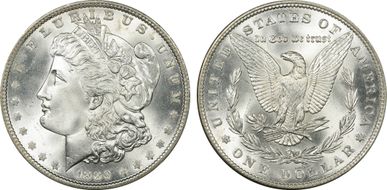 #2 MS67 PCGS grade

Heritage 1/2011:5658, $18,400 - IPS Collection (PCGS Set Registry)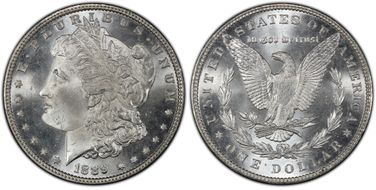 #2 MS67 PCGS grade

Heritage 3/2019:3181, $24,000
#2 MS67 PCGS grade