1889 $3 MS64
Certification #14962826,
PCGS #8011
Expert Comments
David Akers (1975/88)
This is the last year of issue for three dollar gold pieces and therefore, despite the low mintage, one might naturally expect that a sizable number of choice examples exist that were saved as momentos of a disappearing denomination. To be sure, there are some choice examples that were saved, but the 1889 is certainly more difficult to obtain in choice condition than the 1879, 1880, or 1882. Of course, it is also much more scarce in any condition than either the 1887 or 1888. The majority of the choice uncirculated 1889's that I have seen have been frosty or at most partially proof-like. I have seen several fully proof-like 1889's, but do not feel that they would be mistaken for proofs since they lack a proof's depth of field and characteristic orange peel surface.
Designer
James Barton Longacre
Diameter
20.50 millimeters
Metal
90% Gold, 10% Copper
Region
The United States of America
Price Guide
PCGS Population
Auctions - PCGS Graded
Auctions - NGC Graded
Rarity and Survival Estimates

Learn More
65 or Better
1500
All Grades
400
60 or Better
55
65 or Better
R-4.8
All Grades
R-6.2
60 or Better
R-8.4
65 or Better
32 / 41 TIE
All Grades
34 / 41 TIE
60 or Better
29 / 41
65 or Better
32 / 41 TIE
All Grades
34 / 41 TIE
60 or Better
29 / 41
#1 MS67 PCGS grade

Richard C. Jewell Collection - American Numismatic Rarities 3/2005:660, $62,100
#1 MS67 PCGS grade

Stack's/Bowers 3/2013:2157, $38,188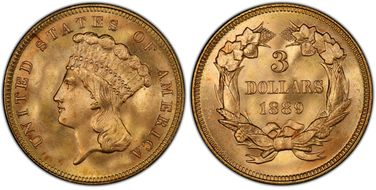 #3 MS66+ PCGS grade
#3 MS66+ PCGS grade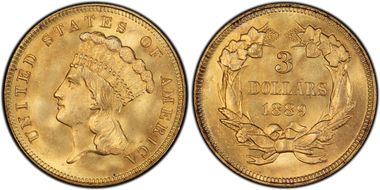 #5 MS66 PCGS grade

Great Lakes Collection - Hanks & Associates, sold privately as an entire collection in 10/2005 - D. Brent Pogue Collection - Stack's/Bowers & Sotheby's 2/2016:3131, $18,800 - Stack's/Bowers 11/2017:10166, $14,400