1891-CC $10 MS61
Certification #08347413,
PCGS #8720
Owner's Comments
Dave Crouthers Grand Gold Coins
Expert Comments
Ron Gillio
Here's a 1891-CC $10 story. My first trip to Europe to buy coins was in about 1970. I went to Zurich with fellow dealers Mark Teller and Larry Hanks. We went to the bullion department of Credit Suisse and we told them we wanted to buy U.S. gold coins. They brought out two bags of 500 coins each. All the coins were brilliant uncirculated 1901-S $10 Liberties. We told them we were looking for different dates and were willing to pay for better dates. They then brought out two bags of mixed date coins. We didn't have a lot of time, so we just picked out the Carson City mint coins. We bought about 75 to 100 uncirculated 1891-CC $10 Liberties. Those truly were the "good old days" and unfortunately all of the coins are now long gone.
---
David Hall
The 1891-CC is the most "common" (not quite the right word) Carson City mint $10 Liberty in uncirculated condition. Ron Gillio remembers buying several hundred pieces from Swiss banks in the early 1970's when gold bulion ownership was illegal in the U.S. and Swiss banks were the gold coin trading centers of the world. I belioee as many as 1500 to 2000 uncirculated coins exist. However, most are lower quality. PCGS has only graded a handful of examples MS64 and not even one example MS65. I have never personally seen a Gem MS65 or better specimen.
Designer
Christian Gobrecht
Diameter
26.80 millimeters
Metal
90% Gold, 10% Copper
Region
The United States of America
Price Guide
PCGS Population
Auctions - PCGS Graded
Auctions - NGC Graded
Rarity and Survival Estimates

Learn More
65 or Better
3333
All Grades
1266
60 or Better
0
65 or Better
R-4.3
All Grades
R-4.8
60 or Better
R-10.1
65 or Better
97 / 117 TIE
All Grades
71 / 117 TIE
60 or Better
1 / 117
65 or Better
163 / 183 TIE
All Grades
124 / 183 TIE
60 or Better
1 / 183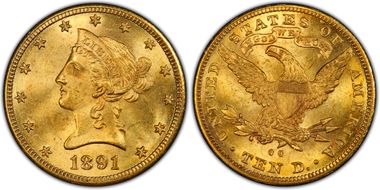 #1 MS64 PCGS grade

David Hall Collection - Bob R. Simpson Collection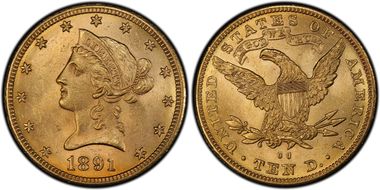 #1 MS64 PCGS grade

Heritage 6/2015:4301, $14,688 - Heritage 4/2017:4295, $17,625
#1 MS64 PCGS grade
#1 MS64 PCGS grade
#1 MS64 estimated grade

Dr. Mani & Kay Ehteshami Collection - Heritage 9/2010:5471, $74,750 - Rusty Goe, sold privately in 9/2010 - "Battle Born" Collection - Stack's/Bowers 8/2012:11036, $58,750