1894-O 10C AU55
Certification #16634859,
PCGS #4804
Owner's Comments
This is a key date in the series and a truly rare find. This example is probably the most attractive O mint in the set. With an abundance of toning starting in the fields and intensifying as it moves towards to the rims. Soft yellows turning to golds and finally irridescent greens. Total PCGS AU population is 23 with 8 in AU 55 and only 3 graded higher. The BCCS rating is R5.
Expert Comments
Jaime Hernandez
The 1894-O Barber Dime is one of the scarcer issues in the series, even in circulated grades. In Uncirculated condition it is much scarcer. Any example grading MS65 or higher is very difficult to locate and it can be years before a collector can add one to their sets.
Designer
Charles E. Barber
Diameter
17.90 millimeters
Metal
90% Silver, 10% Copper
Region
The United States of America
Price Guide
PCGS Population
Auctions - PCGS Graded
Auctions - NGC Graded
Rarity and Survival Estimates

Learn More
65 or Better
1500
All Grades
80
60 or Better
20
65 or Better
R-4.8
All Grades
R-8.2
60 or Better
R-9.1
65 or Better
6 / 76 TIE
All Grades
2 / 76 TIE
60 or Better
3 / 76
65 or Better
6 / 76 TIE
All Grades
2 / 76 TIE
60 or Better
3 / 76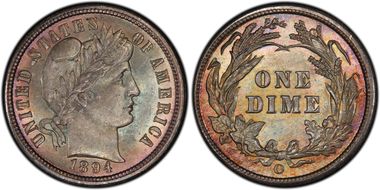 #1 MS67 PCGS grade

Heritage 5/2005:6604 - Eugene H. Gardner Collection - Heritage 5/2015:98287, $37,600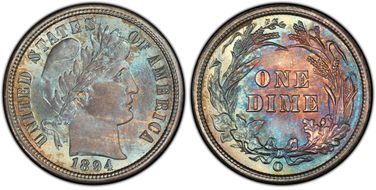 #2 MS66+ PCGS grade
#3 MS66 PCGS grade

Lily Nicole Collection - Heritage 4/2015:4992, $14,100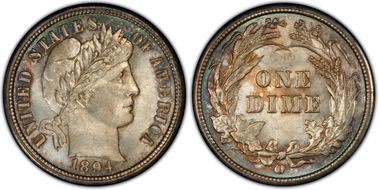 #3 MS66 PCGS grade

Louis E. Eliasberg, Sr. Collection - Bowers & Merena 5/22/1996:1249, $8,800 - Bob R. Simpson Collection - Legend Rare Coin Auctions 12/2014:67, $21,738 - Srotag Complete Barber Collection
#3 MS66 PCGS grade