1899-O $1 MS63
Certification #34723173,
PCGS #7260
Expert Comments
Q. David Bowers
The following narrative, with minor editing, is from my "Silver Dollars & Trade Dollars of the United States: A Complete Encyclopedia" (Wolfeboro, NH: Bowers and Merena Galleries, Inc., 1993)
Numismatic Information
Hoard coins: Beginning in 1947-1948 and continuing through the early 1950s, several bags of 1899-O dollars were released in the East from storage in the Treasury Building in Washington, D.C., and were distributed among banks. A few dealers took advantage of the opportunity to stock up on a bag or two or a few rolls. Prior to this time, the 1899-O was a rarity in Mint State, although few collectors or dealers realized this.
However, it was not until October 1962 that large quantities of bags of this issue became available. The occasion was the well-known release of long-hidden New Orleans Mint dollars from a sealed vault in the Philadelphia Mint. In the great Treasury release of 1962-1964, 1899-O coins were among the first silver dollars in quantity to see the light of day.
Circulated grades: In worn grades, 1899-O dollars are inexpensive today but are not plentiful. As large quantities of Mint State pieces are available, this has kept the prices of circulated pieces low.
Mint State grades: Most known 1899-O dollars are in Mint State. Rather than being concentrated solely at lower levels, the population of such pieces is fairly evenly distributed from MS-60 through the 64 levels. My estimates are as follows: MS-60 to 62, 300,000 to 600,000 coins; MS-63, 175,000 to275,000; and MS-64, 150,000 to 250,000. In other words, here is a Morgan dollar that is very plentiful in the middle Uncirculated grades. At the MS-65 or better level the population is much less, but enough remain-about 30,000 to 60,000-that in absolute terms the coins are plentiful.
The strike of 1899-O Morgan dollars varies from flat to excellent. Here is another issue for which cherry-picking will pay dividends, as beautiful gems can be found. The certification services do not distinguish between poor and excellent strikes; thus, you will have to search on your own. As noted, there are plenty of Mint State coins to choose from! With regard to the surface of the typical coin, most 1899-O dollars are frosty with excellent lustre and are very attractive.
Prooflike coins: DMPL 1899-O Morgan dollars at one time were plentiful. Wayne Miller in his 1982 book reported that he once owned several rolls of such pieces, but by 1980 they were scarce on the market. Even so, the 1899-O is one of the more available Morgan dollars in this finish. More often than not, DMPL coins are extensively bagmarked. About 25% of the DMPL coins are MS-65 or finer. Die rotation: 1899-O dollars are known with the reverse rotated.
Varieties
Circulation strikes:
1. Medium Round O mintmark, open 99, Breen-5658, many VAM listings; Medium Round Omintmark, closed 99, Breen-5659, likewise, many V AM varieties. Partly repunched dates are numerous; none with dramatic doubling. The Medium Round 0 mintmark variety accounts for over 99% of known 1899-O dollars and virtually all of the Mint State ones.
2. Small Round 0 mintmark, closed 99, Breen-5660, VAM-4, 5, 6. These varieties comprise a very small percentage of known 1899-O dollars (Jeff Oxman says fewer than 1%1). Usually seen in low grades, the small mintmark or "Micro 0" coins are scarce Uncirculated. Apparently, the Small Round 0 mintmark variety was not represented in the 1962-1964 Treasury release. The Journal of the S.S.D.C., Spring 1992, contains a detailed discussion of the relative rarity and characteristics of the three VAM varieties. VAM-4 and 6 share the same obverse; VAM-5 is the scarcest of the three.
Dies prepared: Obverse: 85; Reverse: 85
Circulation strike mintage: 12,290,000; Delivery figures by month: January: 1,200,000; February: 1,100,000; March: 1,350,000; April: 1,350,000; May: 1,500,000; June: 700,000; July: 360,000; August: 830,000; September: 870,000; October: 1,000,000; November: 950,000; December: 1,080,000.
Estimated quantity melted: Probably 5,000,000 or more under the 1918 Pittman Act.
Availability of prooflike coins: Many prooflike coins exist, as do DMPL coins. Most are bagmarked, often extensively.
Characteristics of striking: Varies from flat to sharp, but usually above average.
Known hoards of Mint State coins: Some bags were released by the Treasury in the 1940s and early 1950s, and many bags were released 1962-1964.
Commentary
Mint State specimens of 1899-O are usually very lustrous and attractive, although the quality of strike varies.
Additional Information
Dollar Distribution
The Annual Report of the Director of the Mint, 1899, told of distribution of dollars during the fiscal year: New Orleans: In mint July 1, 1898, 1,139,000; coinage fiscal year 1899, 10,540,000; total, 11,679,000; in mint July I, 1899, 11,409,000; total, 11,409,000; distributed from mint, 270,000.
Designer
George T. Morgan
Diameter
38.10 millimeters
Metal
90% Silver, 10% Copper
Region
The United States of America
Price Guide
PCGS Population
Auctions - PCGS Graded
Auctions - NGC Graded
Rarity and Survival Estimates

Learn More
65 or Better
1230000
All Grades
400000
60 or Better
30000
65 or Better
R-1.0
All Grades
R-1.7
60 or Better
R-2.7
65 or Better
94 / 117 TIE
All Grades
99 / 117 TIE
60 or Better
96 / 117 TIE
65 or Better
94 / 117 TIE
All Grades
99 / 117 TIE
60 or Better
96 / 117 TIE
#1 MS68 PCGS grade

Jack Lee 1/Jack Lee 2 Collections - Sanderson Family Collection - Heritage 1/2009:5053, $29,900 - Gold River Collection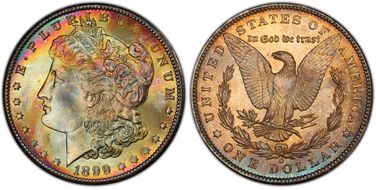 #2 MS67+ PCGS grade

Sunnywood/Bob R. Simpson Collection - Legend Rare Coin Auctions 10/2014:206, $21,150 - Wizard of Oz Collection (PCGS Set Registry)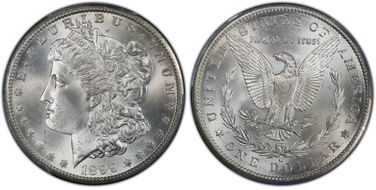 #2 MS67+ PCGS grade

Legend Rare Coin Auctions 6/2015:154, $12,338 - Jay.t.wampler Collection (PCGS Set Registry) - Legend Rare Coin Auctions 2/2016:362, not sold - Woodford Collection - Heritage 1/2019:5304, $4,800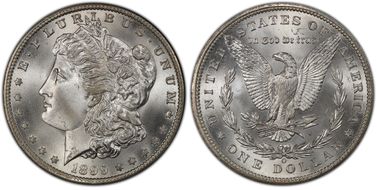 #2 MS67+ PCGS grade

Heritage 1/2019:5303, $15,000 - D.L. Hansen Collection
#2 MS67+ PCGS grade