1902 10C AU58
Certification #12782445,
PCGS #4827
Owner's Comments
This was the last coin to be located for this set, and is an excellent example. Cartwheel luster with shades of orange at the rims and splashes of sea green irridescence throughout. A great strike makes this coin even more attractive. The reverse has a touch more white at the center. Total PCGS AU population is 41 with 26 in AU 58. The BCCS rating is R1.
Expert Comments
Ron Guth
In 1902, employees at the U.S. Mint at Phladelphia minted a record number of 21,380,000. This was the largest Dime mintage since the denomination first appeared in 1796. The record would only last until 1907, and it was only until the Mercury Dimes that such large mintages would become commonplace.
Despite the massive output, the 1902 Dimes is not as common as one might expect. Several dates have much larger populations, according to PCGS. For instance, PCGS has certified nearly six times as many 1892's as the 1902. Other dates with larger populations include: 1895-O; 1898; 1906; 1911; and several others.
In Mint State, the 1902 Dime is most available in MS62 to MS64. MS65 and MS66 examples are slightly less available, but sufficient numbers exist to keep collectors satisfied. Finally, in MS67, the 1902 becomes a significant condition rarity.
Designer
Charles E. Barber
Diameter
17.90 millimeters
Metal
90% Silver, 10% Copper
Region
The United States of America
Price Guide
PCGS Population
Auctions - PCGS Graded
Auctions - NGC Graded
Rarity and Survival Estimates

Learn More
65 or Better
35000
All Grades
500
60 or Better
100
65 or Better
R-2.6
All Grades
R-6.0
60 or Better
R-8.0
65 or Better
64 / 76 TIE
All Grades
43 / 76 TIE
60 or Better
35 / 76 TIE
65 or Better
64 / 76 TIE
All Grades
43 / 76 TIE
60 or Better
35 / 76 TIE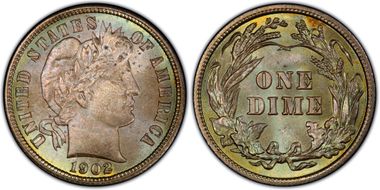 #1 MS67 PCGS grade

Bob R. Simpson Collection - Legend Rare Coin Auctions 12/2014:89, $5,875 - Heritage 1/2016:3799, $5,170 (cert-matched) - "Frog Run Farm" Collection - Stack's/Bowers 11/2017:1360, $4,080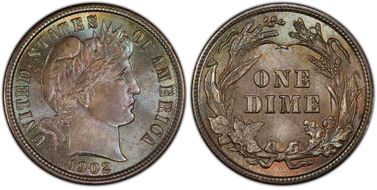 #1 MS67 PCGS grade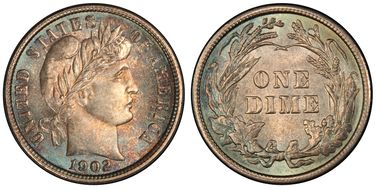 #3 MS66+ PCGS grade

Lily Nicole Collection - Heritage 4/2015:3928, $1,410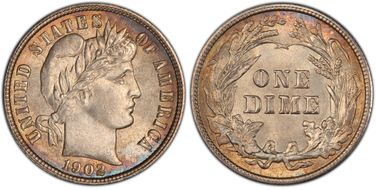 #4 MS66+ PCGS grade
#4 MS66 PCGS grade