1903-O 10C AU58
Certification #05197459,
PCGS #4831
Owner's Comments
A very attractive example particularly for an O mint dime. As with the 97-S, this coin came from an old Philadelphia collection assembled mostly from the 1930's through the 1950's. This is certainly one of the whitest coins in the set, housed in an old green holder. The little toning present is uniform on both the obverse and reverse with a champagne color and underlying cartwheel luster, and a very nice strike. Total PCGS AU population is 70 with and 27 in AU 58. The BCCS rating is R3.
Expert Comments
Ron Guth
According to the PCGS Population Repor, the 1903-O Dime is slightly more plentiful than the 1903, but not nearly as common as the 1903-S. Among Mint State 1903-O Dimes, collectors are most likely to encounter an MS64, though MS62 and MS63 examples are also common. In MS66, the 1903-O Dime is a significant condition-rarity, and MS67 appears to be the highest onbtainable grade.
The strike quality of the 1903-O is exceptional, nearly on par with the Philadelphia Mint issues, and far superior to the O-Mint products of previous decades (the horribly weak 1890-O Dollar comes to mind). In high grades, eye appeal becomes a significant component of pricing, and beautifully toned examples will command large premiums.
Designer
Charles E. Barber
Diameter
17.90 millimeters
Metal
90% Silver, 10% Copper
Region
The United States of America
Price Guide
PCGS Population
Auctions - PCGS Graded
Auctions - NGC Graded
Rarity and Survival Estimates

Learn More
65 or Better
7500
All Grades
400
60 or Better
50
65 or Better
R-3.5
All Grades
R-6.2
60 or Better
R-8.5
65 or Better
31 / 76 TIE
All Grades
34 / 76 TIE
60 or Better
14 / 76 TIE
65 or Better
31 / 76 TIE
All Grades
34 / 76 TIE
60 or Better
14 / 76 TIE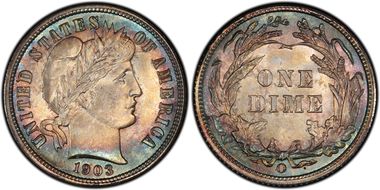 #1 MS67 PCGS grade

U.S. Coins, sold privately in 4/2008 - Eugene H. Gardner Collection, Part III - Heritage 5/2015:98295, $8,813 - Heritage 4/2016:4585, $12,925 - Heritage 11/2016:5203, not sold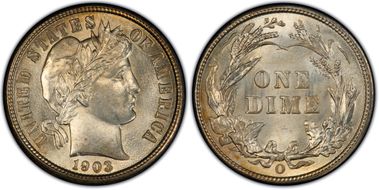 #2 MS66+ PCGS grade

Bob R. Simpson Collection - Legend Rare Coin Auctions 12/2014:93, $7,638 - Stack's/Bowers 11/2015:20037, not sold - Stack's/Bowers 4/2016:16164, $6,463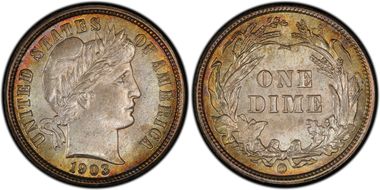 #2 MS66+ PCGS grade

U.S. Coins, sold privately in 4/2008 - Eugene H. Gardner Collection, Part III - Heritage 5/2015:98295, $8,813 - Heritage 4/2016:4585, $12,925 - Heritage 11/2016:5203, not sold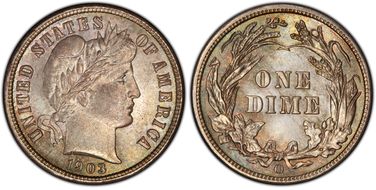 #4 MS66 PCGS grade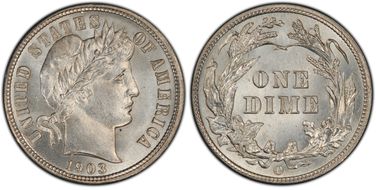 #4 MS66 PCGS grade