1903-O 10C MS66+
Certification #06666237,
PCGS #4831
Expert Comments
Ron Guth
According to the PCGS Population Repor, the 1903-O Dime is slightly more plentiful than the 1903, but not nearly as common as the 1903-S. Among Mint State 1903-O Dimes, collectors are most likely to encounter an MS64, though MS62 and MS63 examples are also common. In MS66, the 1903-O Dime is a significant condition-rarity, and MS67 appears to be the highest onbtainable grade.
The strike quality of the 1903-O is exceptional, nearly on par with the Philadelphia Mint issues, and far superior to the O-Mint products of previous decades (the horribly weak 1890-O Dollar comes to mind). In high grades, eye appeal becomes a significant component of pricing, and beautifully toned examples will command large premiums.
Designer
Charles E. Barber
Diameter
17.90 millimeters
Metal
90% Silver, 10% Copper
Region
The United States of America
Price Guide
PCGS Population
Auctions - PCGS Graded
Auctions - NGC Graded
Rarity and Survival Estimates

Learn More
65 or Better
7500
All Grades
400
60 or Better
50
65 or Better
R-3.5
All Grades
R-6.2
60 or Better
R-8.5
65 or Better
31 / 76 TIE
All Grades
34 / 76 TIE
60 or Better
14 / 76 TIE
65 or Better
31 / 76 TIE
All Grades
34 / 76 TIE
60 or Better
14 / 76 TIE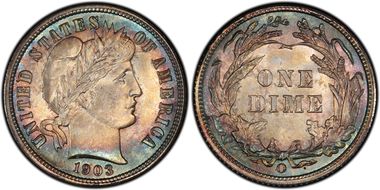 #1 MS67 PCGS grade

U.S. Coins, sold privately in 4/2008 - Eugene H. Gardner Collection, Part III - Heritage 5/2015:98295, $8,813 - Heritage 4/2016:4585, $12,925 - Heritage 11/2016:5203, not sold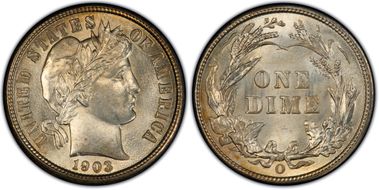 #2 MS66+ PCGS grade

Bob R. Simpson Collection - Legend Rare Coin Auctions 12/2014:93, $7,638 - Stack's/Bowers 11/2015:20037, not sold - Stack's/Bowers 4/2016:16164, $6,463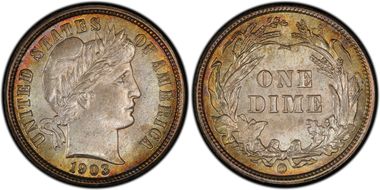 #2 MS66+ PCGS grade

U.S. Coins, sold privately in 4/2008 - Eugene H. Gardner Collection, Part III - Heritage 5/2015:98295, $8,813 - Heritage 4/2016:4585, $12,925 - Heritage 11/2016:5203, not sold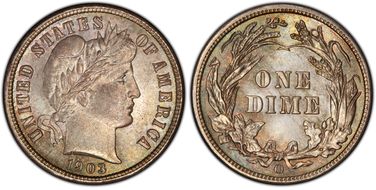 #4 MS66 PCGS grade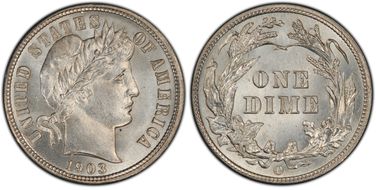 #4 MS66 PCGS grade