1903-S $1 MS66
Certification #05700170,
PCGS #7288
Expert Comments
Ron Guth
The 1903-S Morgan Dollar is a scarcer date and one which is tough to locate in all but the lowest grades. Uncirculated examples are scarce but not rare (the PCGS Population Report showed over 600 Mint State examples in November 2011), and the most frequently seen grade is MS-64. The finest 1903-S Silver Dollars certified by PCGS are a trio of MS-67's. Prooflike 1903-S Dollars are rare and Deep Mirror Prooflike examples are either exceedingly rare or may not even exist.
Researchers have identified nine different VAM varieties for this date, the most popular of which is the Micro S variety (created when the engraver uses a mnintmark for a quarter dollar on the silver dollar die).
---
Q. David Bowers
The following narrative, with minor editing, is from my "Silver Dollars & Trade Dollars of the United States: A Complete Encyclopedia" (Wolfeboro, NH: Bowers and Merena Galleries, Inc., 1993).
Numismatic Information
Hoard coins: Quantities of 1903-S dollars were stored at the San Francisco Mint and paid out in small numbers over a long period of years, until November 1953, when several bags were released, followed by other dispersals during the next several years. At one time John Skubis owned a bag of this date. By the late 1950s, apparently most were gone from government storage. The issue was not represented to any extent in the 1962-1964 Treasury release.
Mint State grades: Most 1903-S dollars are well struck, very lustrous, and quite beautiful. The main problem is that there are not enough coins to satisfy the demand, and the issue has become high priced. This is an important, key issue. I have never handled a quantity of them, and few other dealers have either.
In grades from MS-60 to 63, the 1903-S is one of the rarest of all Morgan dollars. In higher grades it is rare as well, but not in the top half dozen or so issues. I suggest that 1,000 to 2,000 survive in MS-60 to 62 grade, followed by an increase to 1,500 to 3,000 in MS-63, then back to 1,000 to 2,000 in MS-64, and, finally, just 400 to 800 in MS-65 or better preservation.
Caveat emptor: Beware of fakes made by affixing S mintmarks to genuine Philadelphia dollars.
Varieties
NEW OVER OLD HUB: DOUBLE OLIVE AT CLAW
VAM C-4 OVER C-3 REVERSE
Circulation strikes:
1. C-4 reverse hub over C.3, Large S: Breen-5699, VAM 4-6, 8. As is the case with other C-4/C-3 issues 1900 onward, populations have not been determined with any degree of certainty. Most of these issues are still novelties. Once the new 3rd edition of the Van Allen-Mallis text is in use for a few years, collectors will study their holdings and better estimates will be available. For now, the over-hub of 1903-S is, of course, rare in Mint State as a variety (as all 1903-S dollars are), but how it compares to the C-4 reverses listed below is not certain.
NEW REVERSE RUB: WIDE NECK/WING SPACE, LARGE STARS
VAM C-4 REVERSE
Circulation strikes:
1. Large S. Mintmark 0.9 mm. high. Breen-5698, VAM-1, 3, 9. Usually in low grades. Uncirculateds are uncommon, but most that exist are MS-63 or better.
2. Small s. Mintmark 0.75 mm. high. Breen-5697, VAM-2. Rare. Usually in low grades. Wayne Miller mentioned a Chicago collector's prooflike "marginally Uncirculated" coin. Does the variety exist fully Uncirculated? The Small s variety has the punch used for quarter dollar dies. Both sizes of S were in Mehl's sale ofthe P.R. Griffith Collection (March 20, 1912).
Dies prepared: Obverse: Unknown; Reverse: Unknown.
Circulation strike mintage: 1,241,000; Delivery figures by month: January: none; February: none; March: none; April: none; May: none; June: 500,000; July: none; August: 74,000; September: 108,000; October: 232,000; November: 99,000; December: 228,000.
Estimated quantity melted: Probably hundreds of thousands under the 1918 Pittman Act; others in various later melts.
Availability of prooflike coins: Exceedingly rare.
Characteristics of striking: Usually very sharp. Known hoards of Mint State coins: Mint State coins (of the Large S variety) are from Treasury releases, including a dispersal in November 1953. Populations of the several over-hub varieties remain to be studied.
Commentary
In Mint State the 1903-S is one of the rarest Morgan dollars. Curiously, the 1903-S is rarer MS-60 than MS-63.
Designer
George T. Morgan
Diameter
38.10 millimeters
Metal
90% Silver, 10% Copper
Region
The United States of America
Price Guide
PCGS Population
Auctions - PCGS Graded
Auctions - NGC Graded
Rarity and Survival Estimates

Learn More
65 or Better
124000
All Grades
6500
60 or Better
665
65 or Better
R-1.9
All Grades
R-3.7
60 or Better
R-5.6
65 or Better
33 / 117 TIE
All Grades
18 / 117 TIE
60 or Better
36 / 117 TIE
65 or Better
33 / 117 TIE
All Grades
18 / 117 TIE
60 or Better
36 / 117 TIE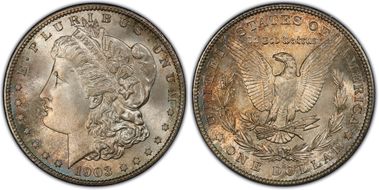 #1 MS67+ PCGS grade

John M. Clapp Collection, purchased from the San Francisco Mint in 10/1903 - John H. Clapp Collection, sold intact in 1942 - Louis E. Eliasberg, Sr. Collection - Bowers & Merena 4/1997:2321, $30,800 - Gary Wolkwitz Collection - Heritage 5/2001:6656, $40,250 - Arno Collection - Heritage 1/2009:5067, $86,250 - Jack Lee Collection - Sunnywood Collection - Bob R. Simpson Collection - Legend Rare Coin Auctions 10/2014:220, $74,438 - Illinois Set Collection (PCGS Set Registry)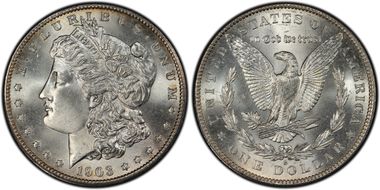 #2 MS67 PCGS grade

Coronet Collection - Legend Rare Coin Auctions 10/2015:31, $55,813 - Gold River Collection (PCGS Set Registry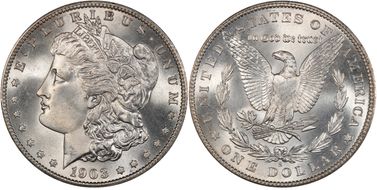 #2 MS67 PCGS grade

Heritage 4/2002:4278, $19,550 - Sanderson Family Collection - Heritage 1/2009:5066, $20,700 - Heritage 1/2018:4954, $33,600 - Heritage 4/2018:4293, $72,000 - IPS Collection (PCGS Set Registry)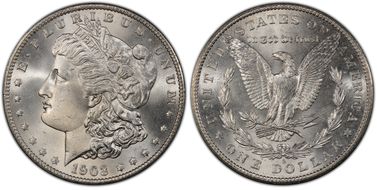 #2 MS67 PCGS grade

Magnificent Morgans Collection (PCGS Set Registry)
#2 MS67 PCGS grade