1905-O 10C AU58
Certification #03498731,
PCGS #4836
Owner's Comments
A beautiful coin to have in a circulated set, with a hint of champagne toning, a great strike and loaded with luster. Total PCGS AU population is 27 with 9 in AU 58. The BCCS rating is R3.
Expert Comments
Ron Guth
The 1905-O Dime is semi-scarce and commands a nice premium in most grades. One of the more interesting 1905-O Die varieties has a "micro" mintmark which is substantially smaller than normal (see the attribution image above). It is possible to cherry-pick this variety, but the chances are lessened because it has been well-publicized for years. High-grade 1905-O Dimes are fairly plentiful in MS63 and MS64, then the populations drop off slightly in MS65 and MS66. In MS67, the population drops substantially and none are known finer. The strike quality of this date varies -- some examples show weakness on Liberty's mouth and on the E of ONE and the ME of DIME; others are well-struck.
Designer
Charles E. Barber
Diameter
17.90 millimeters
Metal
90% Silver, 10% Copper
Region
The United States of America
Price Guide
PCGS Population
Auctions - PCGS Graded
Auctions - NGC Graded
Rarity and Survival Estimates

Learn More
65 or Better
3500
All Grades
400
60 or Better
125
65 or Better
R-4.3
All Grades
R-6.2
60 or Better
R-7.7
65 or Better
19 / 76 TIE
All Grades
34 / 76 TIE
60 or Better
50 / 76 TIE
65 or Better
19 / 76 TIE
All Grades
34 / 76 TIE
60 or Better
50 / 76 TIE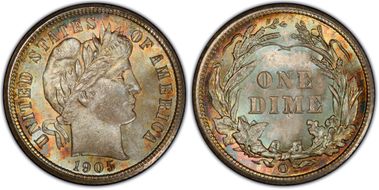 #1 MS67+ PCGS grade

Bob R. Simpson Collection - Legend Rare Coin Auctions 12/2014:98, $8,519 - Stack's/Bowers 11/2015:20039, not sold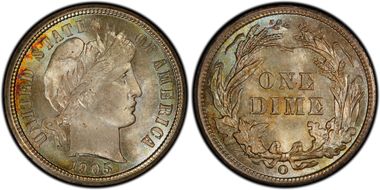 #2 MS67+ PCGS grade

Lily Nicole Collection - Heritage 4/2015:3939, $8,812.50 - Stack's/Bowers 11/2015:20038, not sold - Stack's/Bowers 4/2016:13044, $7,050
#2 MS67 PCGS grade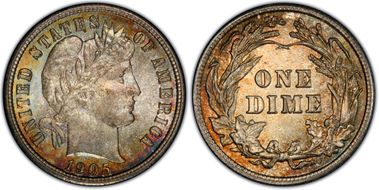 #2 MS67 PCGS grade
#2 MS67 PCGS grade