1906-D 10C MS67+
Certification #06666246,
PCGS #4839
Expert Comments
Ron Guth
In 1906, the Denver Mint came on line and began producing coins. Among the denominations produced in that first year were Dimes, Quarter Dollars, Half Dollars, Half Eagles, Eagles, and Double Eagles. Among this list, the Dime enjoyed the largest mintage, perhaps because it was the smallest coins and easiest to produce. Next came the Half Dollar, whose mintage was only slightly less than that of the Dime. After that, mintages dropped off substantially on the remaining denominations.
The 1906-D Dime has a healthy mintage but it is still a semi-scarce date. In typical fashion, the most common grades are MS63 and MS64. Gems can be had for a price, but MS67 and better examples are rare and expensive. The two best examples are the colorful PCGS MS67's illustrated above.
Designer
Charles E. Barber
Diameter
17.90 millimeters
Metal
90% Silver, 10% Copper
Region
The United States of America
Price Guide
PCGS Population
Auctions - PCGS Graded
Auctions - NGC Graded
Rarity and Survival Estimates

Learn More
65 or Better
10000
All Grades
500
60 or Better
100
65 or Better
R-3.0
All Grades
R-6.0
60 or Better
R-8.0
65 or Better
39 / 76 TIE
All Grades
43 / 76 TIE
60 or Better
35 / 76 TIE
65 or Better
39 / 76 TIE
All Grades
43 / 76 TIE
60 or Better
35 / 76 TIE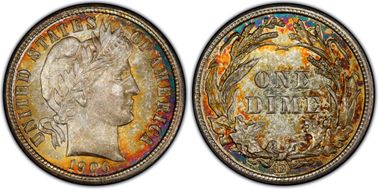 #1 MS67+ PCGS grade

Simpson Collection - Legend Rare Coin Auctions 12/2014:102, $14,688 - Stack's/Bowers 11/2015:20040, not sold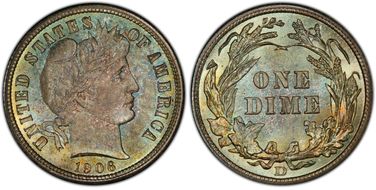 #1 MS67+ PCGS grade

Heritage 4/2013:4190, $11,750 - Heritage 4/2015:4998, $11,750 - Stack's/Bowers 11/2016:2058, not sold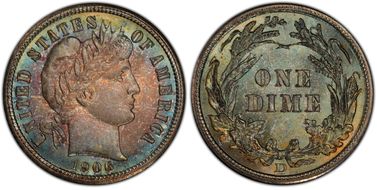 #3 MS67 PCGS grade

Heritage 12/2011:3398 (as PCGS MS67 20692727), $23,000 - Stewart Blay Collection
#3 MS67 PCGS grade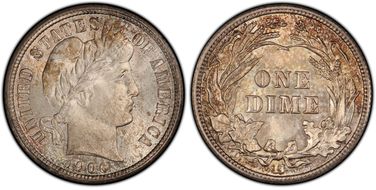 #4 MS66+ PCGS grade