1906-S 10C AU55
Certification #16634868,
PCGS #4841
Owner's Comments
The Cameo like appearance of "Liberty" makes this another must have coin for this set. The obverse has shades of blue and rose while the reverse has splashes of yellow and green. Total PCGS AU population is 34 with 4 in AU 55 and 25 in AU 58. The BCCS rating is R4.
Expert Comments
Ron Guth
The 1906-S Dime is semi-scarce and carries the biggest premium of any 1906-dated Dime. Nonetheless, collectors should have no problem finding a Mint State example since many dozens have been certified by PCGS in MS63 and better grades. Numerous Gem and Superb examples exist. The best ones top out at MS67. Virtually all of the highest-grade examples are toned to some degree, often in colors ranging from subtle to dazzling. Because the strike on the 1906-S Dime is usually strong, the biggest dilemma facing collectors is finding the most visually appealing example for the grade.
Designer
Charles E. Barber
Diameter
17.90 millimeters
Metal
90% Silver, 10% Copper
Region
The United States of America
Price Guide
PCGS Population
Auctions - PCGS Graded
Auctions - NGC Graded
Rarity and Survival Estimates

Learn More
65 or Better
8000
All Grades
300
60 or Better
100
65 or Better
R-3.4
All Grades
R-6.4
60 or Better
R-8.0
65 or Better
34 / 76 TIE
All Grades
24 / 76 TIE
60 or Better
35 / 76 TIE
65 or Better
34 / 76 TIE
All Grades
24 / 76 TIE
60 or Better
35 / 76 TIE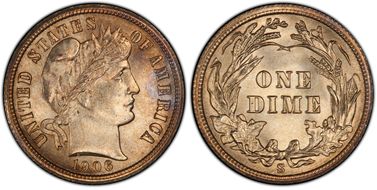 #1 MS67 PCGS grade

Lily Nicole Collection - Heritage 4/2015:4999, $7,637.50 - Heritage 1/2016:3803, $3,290
#1 MS67 PCGS grade

Southwest Collection - Heritage 2/2008:180, $19,550 - Joseph C. Thomas Collection - Heritage 4/2009:2271, $16,100
#1 MS67 PCGS grade

Heritage 8/2011:7083, $14,950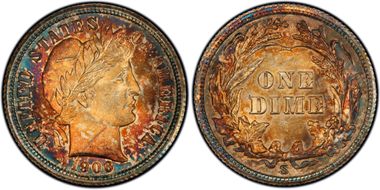 #4 MS66+ PCGS grade

Heritage 1/2011:3356, $2,645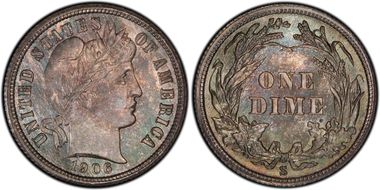 #4 MS66+ PCGS grade

Northern Bay Collection - Stack's 3/2006:4439, $10,350 - Lily Nicole Collection - Heritage 8/2015:3703, $1,762.50 - Heritage 12/2015:4250, $1,292.50