1906 10C AU58
Certification #11500519,
PCGS #4838
Owner's Comments
The 1906 is notorious for a weak strike, so this example is a pleasant suprise. Nice hair detail, satiny luster, with a golden rose obverse. The reverse is equally attractive with a bold strike. Total PCGS AU population is 62 with 34 in AU58. The BCCS rating is R1.
Expert Comments
Ron Guth
The 1906 Dime is one of the most plentiful and least expensive dates in the entire, thus it is a great choice for a type collection. The mintage was just shy of 20 million coins, which represents the third largest mintage among Barber Dimes. Collectors have the oppportunity to choose between hundreds of certified Mint State examples, usually in MS64, but also in large quantities of MS63 and MS65 examples. The very best coins are MS66 and better, with a small handful of MS67's to entice the condition-conscious buyer. The strike quality of this date is generally quite good, but the odd weakly-struck example appears occasionally. Those with strong strikes will show full vein details in the leaf at bottom left reverse.
Designer
Charles E. Barber
Diameter
17.90 millimeters
Metal
90% Silver, 10% Copper
Region
The United States of America
Price Guide
PCGS Population
Auctions - PCGS Graded
Auctions - NGC Graded
Rarity and Survival Estimates

Learn More
65 or Better
40000
All Grades
1500
60 or Better
200
65 or Better
R-2.6
All Grades
R-4.8
60 or Better
R-7.0
65 or Better
64 / 76 TIE
All Grades
65 / 76 TIE
60 or Better
61 / 76 TIE
65 or Better
64 / 76 TIE
All Grades
65 / 76 TIE
60 or Better
61 / 76 TIE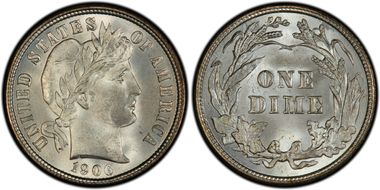 #1 MS67 PCGS grade

John C. Hugon Collection - Heritage 1/2005:4042, $6,900 - Joseph C. Thomas Collection - Heritage 4/2009:220, $5,462.50 - Lily Nicole Collection - Heritage 4/2015:3942, $3,760 - Heritage 7/2015:3081, $3,525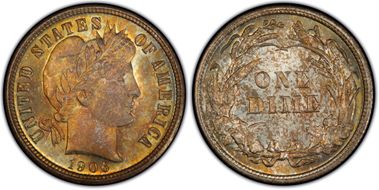 #1 MS67 PCGS grade

Legend Rare Coin Auctions 12/2014:101, $3,878 - Simpson Collection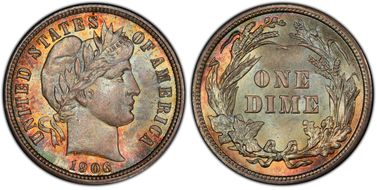 #1 MS67 PCGS grade

Heritage 1/2011:3355, $6,037.50
#1 MS67 PCGS grade

Heritage 9/2006:1347 - Eugene H. Gardner Collection - Heritage 5/2015:98297, $4,700
#1 MS67 PCGS grade