1907 $20 High Relief-Flat Edge MS67
Certification #06666142,
PCGS #9136
1907 $20 High Relief-Flat Edge
Expert Comments
David Akers (1975/88)
The 1907 High Relief with the Flat Rim is not especially rare, but it is considerably more rare than the Wire Rim variety, at least two to three times as rare, in fact. Because of the beauty of the design and the fact that it represented the first significant design change in the 58 year history of the Double Eagle series, High Reliefs were saved in quantity and preserved with great care. As a result, many Flat Rim High Reliefs exist and a substantial portion of them are in choice or gem uncirculated condition. This issue is high priced but not rare; its history, beauty and low mintage have made it one of the most popular U.S. gold coins and this popularity, rather than any inherent rarity, has brought about the High Relief's comparatively high price.
Some Wire Rim coins, especially circulated ones, have much, if not most, of their wire rim missing and so it is sometimes difficult to tell whether a particular coin is a Wire Rim or a Flat Rim merely by looking at the rim. However, since the varieties resulted from the use of collars, they are also distinguishable by looking at the lettered edge. On the Flat Rim variety there is a number of raised lines on the edge running parallel to the rim. These are absent on the Wire Rim variety.
All High Reliefs were struck a minimum of three to five times , so it is not surprising that they are always fully struck. Most specimens are very frosty but many of them have a very satiny texture and often display a myriad of raised die swirls and scratches in the fields. Lustre is always excellent and the color is most often a light to medium greenish gold. A few specimens have a coppery hue, however.
Designer
Augustus Saint Gaudens
Diameter
34.00 millimeters
Metal
90% Gold, 10% Copper
Region
The United States of America
Price Guide
PCGS Population
Auctions - PCGS Graded
Auctions - NGC Graded
Rarity and Survival Estimates

Learn More
65 or Better
2500
All Grades
1950
60 or Better
350
65 or Better
R-4.5
All Grades
R-4.6
60 or Better
R-6.3
65 or Better
1 / 2
All Grades
1 / 2
60 or Better
1 / 2
65 or Better
18 / 54 TIE
All Grades
20 / 54
60 or Better
30 / 54
#1 MS68 PCGS grade

Phillip H. Morse Collection of Saint-Gaudens Coinage - Heritage 10/2005:6527, $264,500 - Heritage 1/2007:3796, $316,250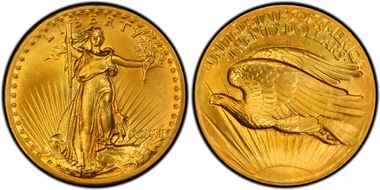 #2 MS67+ PCGS grade

High Desert Collection (PCGS Set Registry)
#3 MS67 PCGS grade

The Dr. & Mrs. Steven L. Duckor Collection - Heritage 1/2012:4601, $172,500 - Fox Collection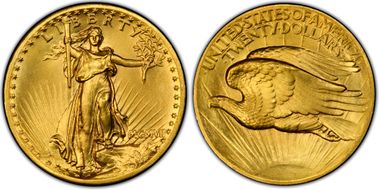 #3 MS67 PCGS grade

Heritage 1/2018:5172, $228,000 - Fox Collection
#3 MS67 PCGS grade