1907-O 10C MS66+
Certification #06666251,
PCGS #4844
Expert Comments
Ron Guth
The 1907-O Dime is just about equal in rarity to the 1907-S. The 1907-O is not as rare as the 1907-D, but it is much scarcer than the 1907-P. High grade examples are somewhat plentiful and can be found with relative ease in all grades up to Gem condition. MS66 examples of the 1907-O Dime are almost as plentiful as MS65s, but in MS66+ and better, this date becomes exceedingly rare.
In general, this date is well struck. Collectors should focus on obtaining nice, problem-free examples that have colorful toning.
Designer
Charles E. Barber
Diameter
17.90 millimeters
Metal
90% Silver, 10% Copper
Region
The United States of America
Price Guide
PCGS Population
Auctions - PCGS Graded
Auctions - NGC Graded
Rarity and Survival Estimates

Learn More
65 or Better
12500
All Grades
500
60 or Better
125
65 or Better
R-2.9
All Grades
R-6.0
60 or Better
R-7.7
65 or Better
46 / 76 TIE
All Grades
43 / 76 TIE
60 or Better
50 / 76 TIE
65 or Better
46 / 76 TIE
All Grades
43 / 76 TIE
60 or Better
50 / 76 TIE
#1 MS67 PCGS grade

Eric P. Newman Collection - Legend Rare Coin Auctions 12/2014:44, not sold
#1 MS67 PCGS grade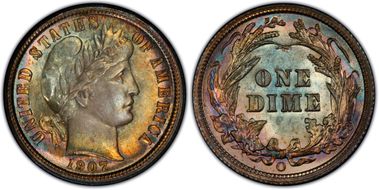 #3 MS66+ PCGS grade

Bob R. Simpson Collection - Legend Rare Coin Auctions 12/2014:107, $3,525 - Heritage 10/2015:4119, $1,763 - Legend Rare Coin Auctions 6/2017:55, $2,900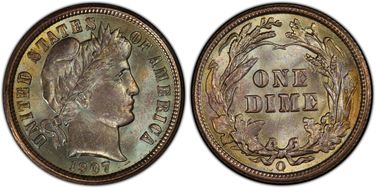 #3 MS66+ PCGS grade

Lily Nicole Collection - Heritage 4/2015:3947, $2,585 - Nicedimes Collection - D.L. Hansen Collection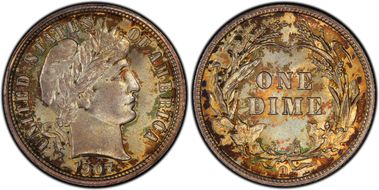 #3 MS66+ PCGS grade

Heritage 9/2015:3441, $1,645