1907-S 10C MS66
Certification #06666252,
PCGS #4845
Expert Comments
Ron Guth
The 1907-S Dime has the smallest mintage of any of the 1907 Dimes, The 1907-S tracks the 1907-D fairly closely in terms of populations and values, and both are considered scarce in Mint State. Several dozen Mint State 1907-S Dimes exist, mostly in the grades of MS63 and MS64. Gems are very rare, but there are actually more MS66's in existence than MS65's. None have been seen above MS66.
The strike quality on the 1907-S Dime is sometimes soft, particularly on Liberty's mouth and on some of the lower leaves on the wreath. On the reverse, the lettering appears soft and rounded.
Designer
Charles E. Barber
Diameter
17.90 millimeters
Metal
90% Silver, 10% Copper
Region
The United States of America
Price Guide
PCGS Population
Auctions - PCGS Graded
Auctions - NGC Graded
Rarity and Survival Estimates

Learn More
65 or Better
10000
All Grades
200
60 or Better
30
65 or Better
R-3.0
All Grades
R-7.0
60 or Better
R-8.9
65 or Better
39 / 76 TIE
All Grades
12 / 76 TIE
60 or Better
6 / 76 TIE
65 or Better
39 / 76 TIE
All Grades
12 / 76 TIE
60 or Better
6 / 76 TIE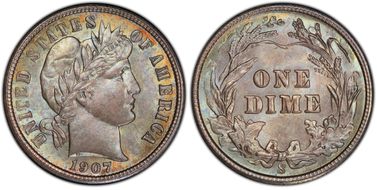 #1 MS66 PCGS grade

Lily Nicole Collection - Heritage 4/2015:3950, $3,055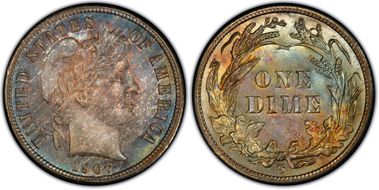 #1 MS66 PCGS grade

Bob R. Simpson Collection - Legend Rare Coin Auctions 12/2014:108, $3,525 - Heritage 1/2016:3804, $2,500.40 - "Charlie56" Collection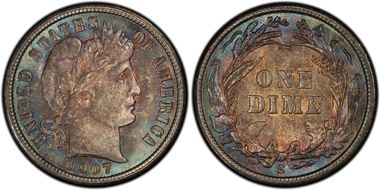 #1 MS66 PCGS grade

Heritage 9/2013:6324, $5,287.50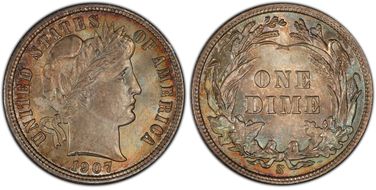 #1 MS66 PCGS grade
#1 MS66 PCGS grade