1908-D $20 Motto MS67
Certification #06666147,
PCGS #9148
Expert Comments
David Akers (1975/88)
Until 1983, when a sizable hoard of several hundred pieces was discovered in Central America, the 1908-D With Motto was one of the series' most underrated issues and an issue that was very difficult to obtain in MS-63 or better condition. Now, the issue must be considered only scarce in MS-63 or lesser grade and even in MS-64 and MS-65 condition it is only moderately rare. Certainly there are many issues in the series that are much rarer in MS-65 than this one. Several superb (MS-67) quality pieces of this issue exist. The Eliasberg coin, now owned by Dr. Steven Duckor, is amazing, one of the nicest Saint-Gaudens double eagles of any date or mint I have seen. The Browning Collection held in trust in a Texas bank also contains a nearly perfect piece, and dealer Al Adams recently purchased another at auction that had been graded "MS-67" by PCGS. The Winner Delp Sale (1972) also contained an MS-67 or better example. Dr. Thaine Price's specimen is nearly in the class with the others, MS-65+ at least, and I have seen a few others of this quality.
Since the detail on the master hub was strengthened at the time the motto was added, the 1908-D With Motto appears to be much sharper and more defined on the obverse than the 1908-D No Motto. The typical 1908-D With Motto is very sharply struck with frosty but slightly granular surfaces. Lustre is generally very good, but usually a bit less vibrant than on the typical 1908-D No Motto. Color is usually greenish gold or orange or, on occasion, light to medium orange gold.
Designer
Augustus Saint Gaudens
Diameter
34.00 millimeters
Metal
90% Gold, 10% Copper
Region
The United States of America
Price Guide
PCGS Population
Auctions - PCGS Graded
Auctions - NGC Graded
Rarity and Survival Estimates

Learn More
65 or Better
23333
All Grades
10333
60 or Better
400
65 or Better
R-2.7
All Grades
R-2.9
60 or Better
R-6.2
65 or Better
30 / 49 TIE
All Grades
29 / 49 TIE
60 or Better
30 / 49 TIE
65 or Better
32 / 54 TIE
All Grades
31 / 54 TIE
60 or Better
31 / 54 TIE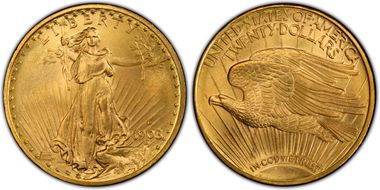 #1 MS67 PCGS grade

Louis E. Eliasberg, Sr. Collection - Bowers & Ruddy 10/1982:1028 - Dr. Steven L. Duckor Collection - Stack's/Bowers 1/2013:13346, $108,688 - Simpson Collection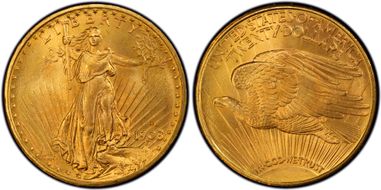 #1 MS67 PCGS grade

Dr. & Mrs. Steven L. Duckor Collection - Heritage 1/2012:4606, $83,375
#1 MS67 PCGS grade
#1 MS67 PCGS grade
#5 MS66+ PCGS grade