1908-O 10C AU55
Certification #16392890,
PCGS #4848
Owner's Comments
The 1908-O is nearly impossible to find. The experts tell us the coin comes softly struck and this example falls into that category. A white coin and certainly "dipped" but still an acceptable example. Total PCGS AU population is 10 with 5 in AU55 and 2 graded higher. The BCCS rating is R4.
Expert Comments
Ron Guth
The 1908-O Dime has the smallest mintage of the year, but it is the third rarest of the four Dimes of this year (the others being the 1908-P, 1908-D, 1908-S). Fortunately, this date comes nice and the strike is usually above-average to strong. In an unusual twist, the 1908-O is as easy to find in MS65 condition as it is in MS63 and MS64. Superb examples include roughly half a dozen MS67's. This date is one of the best values in the series.
Designer
Charles E. Barber
Diameter
17.90 millimeters
Metal
90% Silver, 10% Copper
Region
The United States of America
Price Guide
PCGS Population
Auctions - PCGS Graded
Auctions - NGC Graded
Rarity and Survival Estimates

Learn More
65 or Better
10000
All Grades
400
60 or Better
150
65 or Better
R-3.0
All Grades
R-6.2
60 or Better
R-7.5
65 or Better
39 / 76 TIE
All Grades
34 / 76 TIE
60 or Better
54 / 76 TIE
65 or Better
39 / 76 TIE
All Grades
34 / 76 TIE
60 or Better
54 / 76 TIE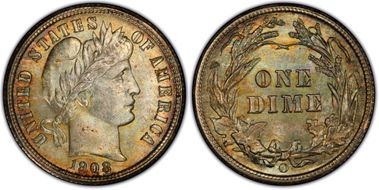 #1 MS67 PCGS grade

Bob R. Simpson Collection - Legend Rare Coin Auctions 12/2014:111, not sold - Heritage 1/2016:3808, $3,525 - Heritage 5/2016:25061, $3,878 - Charlie56 Collection (PCGS Set Registry)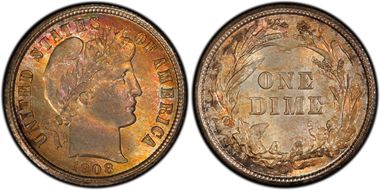 #1 MS67 PCGS grade

Bowers & Merena 8/2006:766, $6210 - Lily Nicole Collection - Heritage 4/2015:3954, $3,055
#1 MS67 PCGS grade

Goldbergs 1/2016:1424, $6,580
#1 MS67 PCGS grade
#1 MS67 PCGS grade