1908-S $20 MS67
Certification #06666148,
PCGS #9149
Expert Comments
David Akers (1975/88)
The 1908-S is a rare issue in any Mint State grade. This is one of those relatively few Saint-Gaudens issues that is seen much more often in the circulated grades than in Mint State. Most Mint State specimens are rather low quality, i.e. in the MS-60 to 62 range. At the MS-63 level or above, this issue is really very rare. However, there are a fair number of gem quality specimens around as well as several superb ones. Dr. Steven Duckor's is a nearly perfect satiny specimen and the Auction '80-Milton Holmes and Norweb specimens are also close to perfection. Eliasberg's was better than MS-65, and I own two other such specimens. Harry Bass, Dr. Thaine Price, Dr. William Crawford and a prominent Eastern collector all own gems, and there are still others, such as the one in the Browning Collection. All in all, probably 15 to 20 gem or superb quality pieces are known.
All 1908-S double eagles were struck from the dies produced from the strengthened obverse hub, so all of them show more detail on the obverse than the No Motto issues. The 1908-S is always very sharply struck. The mintmark is very tiny but usually well defined. Like the half eagle and eagle of the same date and mint, the 1908-S double eagle comes with two very different finishes; one is "soft" frosty, the other (much more rare) is very satiny. Color is usually excellent on this issue; the most often seen is greenish gold and orange although many specimens are very orange or coppery colored. Red or orange copper spots are common on this issue and some are afflicted by carbon spots. Lustre is invariably very good to excellent. In top grade, this is one of the prettiest issues of the series.
Designer
Augustus Saint Gaudens
Diameter
34.00 millimeters
Metal
90% Gold, 10% Copper
Region
The United States of America
Price Guide
PCGS Population
Auctions - PCGS Graded
Auctions - NGC Graded
Rarity and Survival Estimates

Learn More
65 or Better
1316
All Grades
466
60 or Better
50
65 or Better
R-4.8
All Grades
R-6.0
60 or Better
R-8.5
65 or Better
16 / 49
All Grades
11 / 49 TIE
60 or Better
20 / 49 TIE
65 or Better
16 / 54
All Grades
11 / 54 TIE
60 or Better
20 / 54 TIE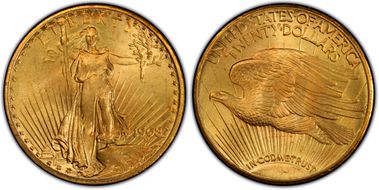 #1 MS67 PCGS grade

Bob R. Simpson Collection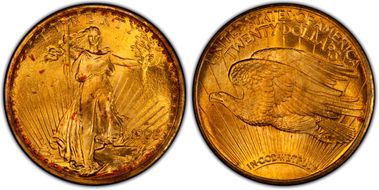 #1 MS67 PCGS grade

Norweb Collection - Bowers & Merena, 11/1988:4090 - David W. Akers - Dr. & Mrs. Steven L. Duckor - Heritage 1/2012:4607, $161,000
#1 MS67 PCGS grade
#1 MS67 PCGS grade

Philip Morse - Heritage 11/2005:6559, $109,250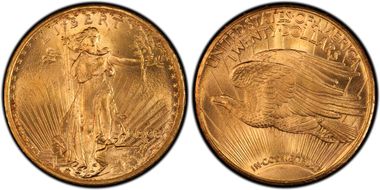 #5 MS66+ PCGS grade

Bella Collection - A & A Saints Collection