1908-S 10C AU58
Certification #11782685,
PCGS #4849
Owner's Comments
Dick Quitmeyer at Yellow River Coins has a nice eye for Barber dimes, and this coin is an excellent example. Add to that, knowing that this set was 13 years in the making before locating this coin indicates that this example is much tougher than collectors might think. Fully toned with shades of blue, purple, and rose with a good stike, consistent on both the obverse and reverse. Total PCGS AU population is 36 with 13 in AU 58. The BCCS rating is R3.
Expert Comments
Ron Guth
Of the four mintmarked 1908 Dimes, the 1908-S has the third largest mintage. The PCGS Population Report confirms the third-place ranking, with a population between that of the 1908-O (the scarcest) and the 1908-D (the second scarcest). In Mint State, the 1908-S is readily available across a spectrum of grades from MS62 to MS65. MS66 examples become scarce, but not rare. MS67's are really rare and PCGS has certified none higher. One of the nicest examples is the PCGS MS67 that once resided in the Simpson Collection; this coin has white centers surrounded by gold and blue colors at the peripheries (see the illustration above).
The strike quality of 1908-S Dimes is usually very good to strong.
Designer
Charles E. Barber
Diameter
17.90 millimeters
Metal
90% Silver, 10% Copper
Region
The United States of America
Price Guide
PCGS Population
Auctions - PCGS Graded
Auctions - NGC Graded
Rarity and Survival Estimates

Learn More
65 or Better
12500
All Grades
300
60 or Better
100
65 or Better
R-2.9
All Grades
R-6.4
60 or Better
R-8.0
65 or Better
46 / 76 TIE
All Grades
24 / 76 TIE
60 or Better
35 / 76 TIE
65 or Better
46 / 76 TIE
All Grades
24 / 76 TIE
60 or Better
35 / 76 TIE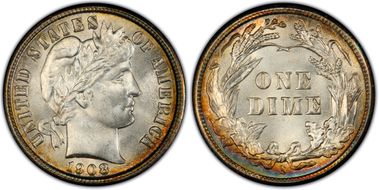 #1 MS67 PCGS grade

Bob R. Simpson Collection - Legend Rare Coin Auctions 12/2014:112, $9,693.75 - Stack's/Bowers 11/2015:20043, not sold - Legend Rare Coin Auctions 12/2016:194, $10,281.25
#1 MS67 PCGS grade
#1 MS67 PCGS grade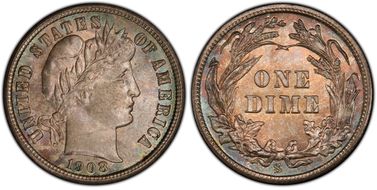 #4 MS66+ PCGS grade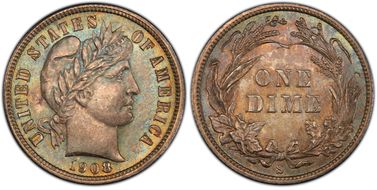 #5 MS66 PCGS grade

Heritage 1/2016:3809, $2,115