1909-D 10C AU58
Certification #03698067,
PCGS #4851
Owner's Comments
I don't know Tom Casey, but in reviewing the provenance of this set, Tom's name, or his set TCP III, appear nearly often as David Feigenbaum and Mike Hayes. This is a great example of a coin that is very difficult to locate in this condition. Shades of gold and toast accented by mint luster in the fields. Total PCGS AU population is 31 with 14 in AU58. The BCCS rating is R4.
Expert Comments
Ron Guth
The 1909-D Dime has the smallest mintage of any of the Dimes produced in 1909, and the smallest mintage (under 1 million coins) since 1904. In most grades, the 1909-D Dime fetches a nice premium, but this may be an overreaction to the mintage since the 1909-D is no more rare than the other Mints of the year (based on the number of certified examples). For instance, the 1909-O has a smaller number of certified Mint State examples than the 1909-DS, yet it is almost invariably priced lower then the 1909-D. It should be the other way around.
Finding a nice, Mint State 1909-D Dime should be accomplished easiy. MS64 is the most frequently-seen grade, bracketed by equal amounts in MS63 and MS65. Gems are rare, especially in the elusive MS66+ grade. None have been graded higher.
Designer
Charles E. Barber
Diameter
17.90 millimeters
Metal
90% Silver, 10% Copper
Region
The United States of America
Price Guide
PCGS Population
Auctions - PCGS Graded
Auctions - NGC Graded
Rarity and Survival Estimates

Learn More
65 or Better
7000
All Grades
250
60 or Better
60
65 or Better
R-3.6
All Grades
R-6.6
60 or Better
R-8.4
65 or Better
30 / 76
All Grades
20 / 76 TIE
60 or Better
23 / 76 TIE
65 or Better
30 / 76
All Grades
20 / 76 TIE
60 or Better
23 / 76 TIE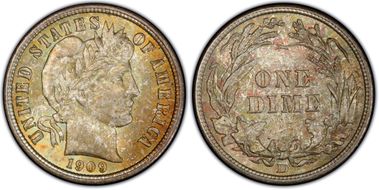 #1 MS66+ PCGS grade

Bob R. Simpson Collection - Legend Rare Coin Auctions 12/2014:114, not sold - Heritage 1/2016:3811, $4,230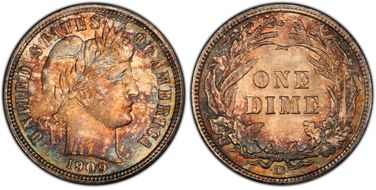 #1 MS66+ PCGS grade

Heritage 1/2011:3358, $7,187.50 - Lily Nicole Collection - Heritage 4//2015:3957, $4,700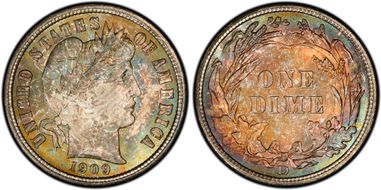 #1 MS66+ PCGS grade

Heritage 1/2011:3358, $7,187.50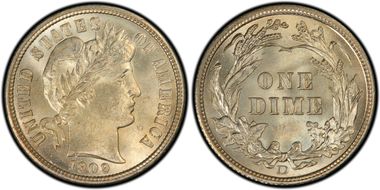 #4 MS66 PCGS grade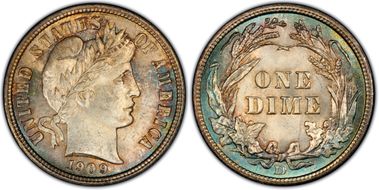 #4 MS66 PCGS grade