1909-D $20 MS66+
Certification #06666151,
PCGS #9152
Expert Comments
David Akers (1975/88)
The 1909-D is generally sharply struck, and most have "soft" frosty surfaces; a few, however, have satiny tendencies. Some, but not all, have a very slight granularity as well. Nearly all known Mint State examples come from a hoard of several hundred pieces that was discovered in Central America in 1983. These coins have average to slightly better than average lustre and light to medium orange and greenish gold toning. The mintmark is short and wide and on many specimens I have seen, there are numerous raised die scratches around it.
Until the group was discovered in Central America, this issue was extremely rare in any Mint State grade and all but unobtainable in MS-63 or better condition. Now, however, the 1909-D can only be considered scarce in Mint State and, since many of the coins in the hoard were in choice condition, it is now fairly available up to and including the MS-63 grade. MS-64 examples remain rare, however, and gems are still nearly impossible to find. Four specimens (none from the hoard, and possibly all assay pieces) stand head and shoulders above the rest. Harry Bass' and Dr. Steven Duckor's (ex Eliasberg) are both virtually perfect. It would be hard to imagine a finer Saint-Gaudens $20 of any date or mint than either of these. The Browning Collection in a Texas bank contains a superb gem, and I have seen a fourth of similar quality in a famous private collection.
Designer
Augustus Saint Gaudens
Diameter
34.00 millimeters
Metal
90% Gold, 10% Copper
Region
The United States of America
Price Guide
PCGS Population
Auctions - PCGS Graded
Auctions - NGC Graded
Rarity and Survival Estimates

Learn More
65 or Better
3283
All Grades
1200
60 or Better
27
65 or Better
R-4.3
All Grades
R-4.9
60 or Better
R-8.9
65 or Better
19 / 49
All Grades
17 / 49
60 or Better
14 / 49 TIE
65 or Better
20 / 54
All Grades
17 / 54
60 or Better
14 / 54 TIE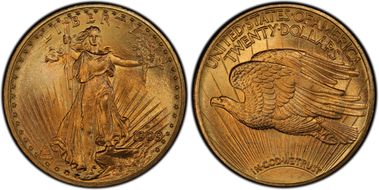 #1 MS67 PCGS grade

Louis E. Eliasberg, Sr. Collection - Bowers & Ruddy Galleries 10/1982:1032 - Dr. Steven L. Duckor Collection - Phillip H. Morse Collection of Saint-Gaudens Coinage - Heritage 11/2005:6569, $161,000 - Jacob Collection of Saint-Gaudens Double Eagles - Heritage 1/2008:3368, $218,500 - Bella Collection - A&A Saints Collection
#1 MS67 PCGS grade
#3 MS66+ PCGS grade

Bob R. Simpson Collection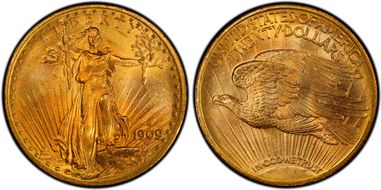 #4 MS66 PCGS grade

John P. Kutasi Collection - Heritage 1/2007:3268 - Dr. and Mrs. Steven L. Duckor Collection - Heritage 1/2012:4610, $80,500 - Heritage 4/2012:5373, $77,625
#4 MS66 PCGS grade

Harry W. Bass, Jr. Collection - Bowers & Merena 5/2000:917, $39,100 - Bowers & Merena 11/2010:5500, $66,125