1909-S 10C MS67
Certification #06666260,
PCGS #4853
Expert Comments
Ron Guth
The 1909-S Dime is the most valuable of the 1909 Dimes by just a small margin (over the 1909-D). The largest certified population is in MS64. Above that, the number of MS65's drops off dramatically, MS66's are equally rare, and MS67's are fewer than the number of fingers on one hand.
The strike quality of the 1909-S Dime can be slightly mushy, so keep an eye open for fully struck examples (paying particular attention to the leaf structure on the lower reverse). Positive eye appeal is always appreciated and there are some lovely, high-end coins with great color. The PCGS MS67 illustrated above (formerly in Bob Simpson's collection) is particularly attractive.
Designer
Charles E. Barber
Diameter
17.90 millimeters
Metal
90% Silver, 10% Copper
Region
The United States of America
Price Guide
PCGS Population
Auctions - PCGS Graded
Auctions - NGC Graded
Rarity and Survival Estimates

Learn More
65 or Better
8000
All Grades
200
60 or Better
50
65 or Better
R-3.4
All Grades
R-7.0
60 or Better
R-8.5
65 or Better
34 / 76 TIE
All Grades
12 / 76 TIE
60 or Better
14 / 76 TIE
65 or Better
34 / 76 TIE
All Grades
12 / 76 TIE
60 or Better
14 / 76 TIE
#1 MS67 PCGS grade

Bob R. Simpson Collection - Legend Rare Coin Auctions 12/2014:116, $12,337.50 - Stack's/Bowers 11/2015:20045, not sold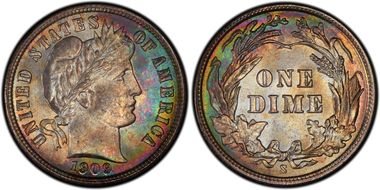 #1 MS67 PCGS grade

Heritage 1/2005:4057, $12,075 - Eugene H. Gardner Collection, Part III - Heritage 5/2015:98304, $9,987.50 - Heritage 9/2015:3829, $9,400
#1 MS67 PCGS grade

Heritage 8/2007:1634 - Heritage 8/2009:510 - Heritage 8/2015:3997, $9,987.50 - Heritage 6/2016:4397, $7,050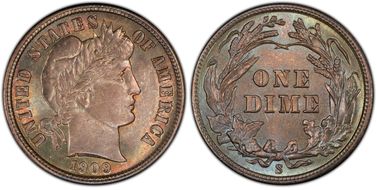 #4 MS66 PCGS grade
#4 MS66 PCGS grade