1909 10C AU58
Certification #19598711,
PCGS #4850
Owner's Comments
There is nothing unusual about this coin, it's pleasing, darker in color and plenty of cartwheel luster, showing the true beauty of an original coin. The total PCGS AU population is 42 with 17 in AU 58. The BCCS rating is R1. While not part of this set for Everyman purposes I was also fortunate enough to locate a second example of this coin (also in PCGS 58) struck 10% off center, and have included images of it as well.
Expert Comments
Ron Guth
The 1909 Dime has a fairly hefty mintage of over 10 million coins. Thus, it is easy and inexpensive to obtain in most grades. Mint State examples are very plentiful, with hundreds of examples available in a range of grades from MS62 to MS65. The PCGS CoinFacts Conditin Census starts with MS66 examples and tops out at MS67. The three MS67's illustrated above present in different ways; each has color in varying formats. The price record for this date is held by a PCGS MS66 (interestingly, two of the PCGS MS67's sold subsequently for a price no more than a third of the record).
Designer
Charles E. Barber
Diameter
17.90 millimeters
Metal
90% Silver, 10% Copper
Region
The United States of America
Price Guide
PCGS Population
Auctions - PCGS Graded
Auctions - NGC Graded
Rarity and Survival Estimates

Learn More
65 or Better
25000
All Grades
1000
60 or Better
150
65 or Better
R-2.7
All Grades
R-5.0
60 or Better
R-7.5
65 or Better
56 / 76 TIE
All Grades
56 / 76 TIE
60 or Better
54 / 76 TIE
65 or Better
56 / 76 TIE
All Grades
56 / 76 TIE
60 or Better
54 / 76 TIE
#1 MS67 PCGS grade

Bob R. Simpson Collection - Legend Rare Coin Auctions 12/2014:113, not sold - Heritage 1/2016:3810, $3,055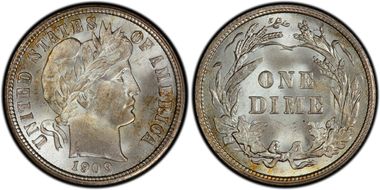 #1 MS67 PCGS grade

Dr. Steven Duckor Collection - Heritage 1/2006:1022 - Lily Nicole Collection - Heritage 4/2015:3956, $4,230 - Heritage 12/2015:3114, $3,525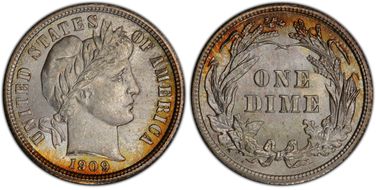 #1 MS67 PCGS grade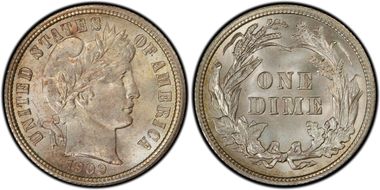 #4 MS66 PCGS grade

"Illini" (Michael J. Kittle) Collection
#4 MS66 PCGS grade