1909 $20 MS66
Certification #06666149,
PCGS #9150
Expert Comments
David Akers (1975/88)
For years, the 1909 normal date was overshadowed by the popular 1909/8, but in the past decade or so the 1909 has come to be correctly recognized as the rarer of the two issues. Actually it is much more rare than the 1909/8 except possibly in gem condition where the two are of similar rarity. Unlike the 1909/8 which is often seen in VF or EF, the 1909 is normally available only in AU or Unc. This issue, along with the other early Philadelphia Mint issues from 1908 With Motto through 1915 (plus the 1920 as well), is very underrated in high grade. I have seen fewer Mint State examples of this issue than I have of any of the others, including the 1913, although there are a few more MS-64 or better quality examples in existence of this issue than there are of either the 1913 or the 1920. Nearly all of the known Mint State specimens of this issue are low quality, i.e. MS-60 to 62. Even in MS-63, the 1909 is a rarity, and above that level, especially in gem condition, the 1909 is one of the rarest issues of the entire series. A couple of superb quality Mint State pieces exist that are very nearly perfect, the nicest one I have seen trading hands in the 1980 bull market for a reported $30,000 plus. This specimen and the few others I have seen have a strong resemblance to a satin finish Proof, albeit with a bit less lustre. Dr. Thaine Price owns one of the nicest frosty ones I have seen, a solid MS-65 coin, and a prominent Eastern collector owns another of similar quality.
The 1909 is always very sharply struck. Some specimens are frosty; others have a definite satiny texture. A few of the high-grade ones look very similar to the Proofs of this year. Lustre is nearly always very good, especially on the satiny ones, and the color is typically a light to medium yellow or greenish yellow gold. There are also some examples that have a very appealing light to medium orange gold color.
Designer
Augustus Saint Gaudens
Diameter
34.00 millimeters
Metal
90% Gold, 10% Copper
Region
The United States of America
Price Guide
PCGS Population
Auctions - PCGS Graded
Auctions - NGC Graded
Rarity and Survival Estimates

Learn More
65 or Better
9833
All Grades
4500
60 or Better
50
65 or Better
R-3.0
All Grades
R-4.1
60 or Better
R-8.5
65 or Better
22 / 49
All Grades
22 / 49
60 or Better
20 / 49 TIE
65 or Better
24 / 54
All Grades
23 / 54
60 or Better
20 / 54 TIE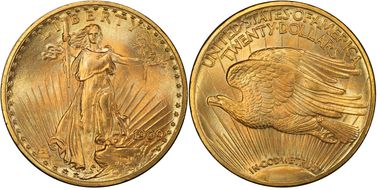 #1 MS66+ PCGS grade

Jay Brahin Collection - John Kutasi Collection - Heritage 1/2007:3266, $74,750 - "Fox" Collection
#2 MS66 PCGS grade

David Akers - Dr. & Mrs. Steven L. Duckor Collection - Heritage 1/2012:4608, $74,750 - "Midsouthcoin" Collection (PCGS Set Registry)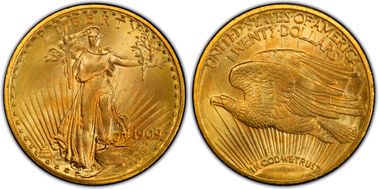 #2 MS66 PCGS grade

Phillip H. Morse Collection - Heritage 11/2005:6561, $126,500 - Simpson Collection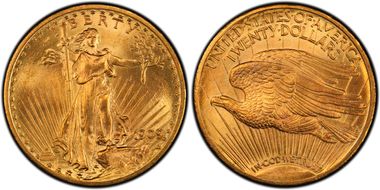 #2 MS66 PCGS grade
#2 MS66 PCGS grade

Heritage 9/2013:6911, $70,500 - "A&A Sainbts" Collection (PCGS Set Registry)