1910-D 10C AU58
Certification #27295902,
PCGS #4855
Owner's Comments
A challenging, perhaps nearly impossible coin to locate in AU58. The coin is white with remarkably near perfect sufaces. Total PCGS AU population is 19 with only 8 in AU58. The BCCS rating is R3.
Expert Comments
Ron Guth
The 1910-D Dime is fairly common in circulated grades but begins to pick up a nice value premium in Mint State. The 1910-D Dime is typically worth about half that of a comparably graded 1910-S even though the Mint State pooulations are about equal for each (hint, this makes the 1910-D seem like a great value and an underrated coin). For those collectors seeking out a Mint State 1910-D Dime, the most frequently-seen grades are MS63 and MS64. MS65 examples can be found with no difficulty, but in MS66 and better this date becomes conditonally rare. The best examples are a tiny number of MS67's.
Designer
Charles E. Barber
Diameter
17.90 millimeters
Metal
90% Silver, 10% Copper
Region
The United States of America
Price Guide
PCGS Population
Auctions - PCGS Graded
Auctions - NGC Graded
Rarity and Survival Estimates

Learn More
65 or Better
15000
All Grades
300
60 or Better
60
65 or Better
R-2.9
All Grades
R-6.4
60 or Better
R-8.4
65 or Better
46 / 76 TIE
All Grades
24 / 76 TIE
60 or Better
23 / 76 TIE
65 or Better
46 / 76 TIE
All Grades
24 / 76 TIE
60 or Better
23 / 76 TIE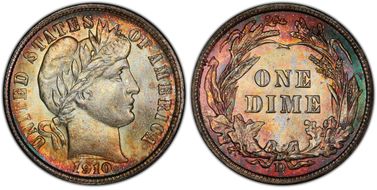 #1 MS67 PCGS grade

Dr. Steven L. Duckor Collection - Heritage 1/2006:1026 - Lily Nicole Collection - Heritage 4/2015:3961, $7,050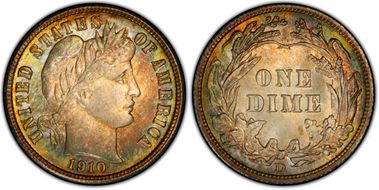 #1 MS67 PCGS grade

Bob R. Simpson Collection - Legend Rare Coin Auctions 12/2014:118, $10,281 - Stack's/Bowers 11/2015:20046, not sold
#3 MS66 PCGS grade
#3 MS66 PCGS grade
#3 MS66 PCGS grade