1910-S $20 MS66+
Certification #06666155,
PCGS #9156
Expert Comments
David Hall
The miracle MS68 appeared in around 1984 or so. I was at the Long Beach coin show and San Francisco dealer Tony Calcagno brought the coin to my table. He showed me the coin and quoted me what was then the totally outrageous price of $5,000. This was three or four times the wholesale price for a Gem. But this was the most perfect Saint Gaudens I had ever seen, so I paid the five grand. I had no idea what to do with the coin so my partner Van Simmons sold it to a client for $5,500. Then along came PCGS in 1986 and the focus on ultra high grade coins became intense. In 1987 or 1988, we called the client and offered him a huge profit and then sold the coin to Kansas City dealer Joe Flynn for $50,000. Joe sold the coin almost immediately, but I don't know to who and I don't know where this miracle coin resides today. But as far as I know this coin has been off the market for well over two decades.
---
David Akers (1975/88)
The 1910-S is a common issue in any grade below gem Uncirculated (MS-65). There have been several hoards of this issue discovered over the years including one of several thousand Mint State examples found in 1983 in Central America. Gems are very scarce but are seen considerably more often than those dated 1909-S. Some nearly perfect examples of this issue are known, perhaps the finest being a specimen graded MS-68 by PCGS that I sold to a prominent Eastern collector. The Eliasberg specimen that was sold in 1982 was also an exceptional piece that many would grade MS-67.
The 1910-S most often has a very satiny texture to the surface although I have also seen many specimens that are frosty with just a hint of granularity. Lustre, particularly on the satiny ones (and thus on most known specimens), is generally very good to excellent, far superior to almost any 1911-S or 1909-S. The strike is always sharp and the rims are quite round on many examples. Color is invariably very good, typically a light to medium orange or coppery gold. Top grade examples of this issue are exceptionally attractive.
Designer
Augustus Saint Gaudens
Diameter
34.00 millimeters
Metal
90% Gold, 10% Copper
Region
The United States of America
Price Guide
PCGS Population
Auctions - PCGS Graded
Auctions - NGC Graded
Rarity and Survival Estimates

Learn More
65 or Better
35000
All Grades
15333
60 or Better
725
65 or Better
R-2.6
All Grades
R-2.8
60 or Better
R-5.5
65 or Better
33 / 49 TIE
All Grades
32 / 49 TIE
60 or Better
32 / 49
65 or Better
36 / 54 TIE
All Grades
34 / 54 TIE
60 or Better
34 / 54 TIE
#1 MS68 PCGS grade

Tony Calcagno- Hall/Simmons-private collector-Hall/Simmons-Joe Flynn-Akers
#2 MS67 PCGS grade

John M. Clapp Collection, purchased directly from the San Francisco Mint in 1910 - John H. Clapp Collection, sold intact in 1942 - Louis E. Eliasberg, Sr. Collection - Bowers & Ruddy 10/1982:1036, $5,500 - "Auction '88" 7/1988:989 - Dr. Thaine B. Price Collection - David Akers 5/1998:85 - Phillip H. Morse Collection - Heritage 11/2005:6585, $51,750 - Empire Collection - Heritage 1/2015:4427, $88,125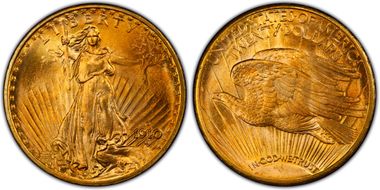 #3 MS66+ PCGS grade

Bob R. Simpson Collection
#3 MS66+ PCGS grade

David Akers, sold privately - Dr. & Mrs. Steven L. Duckor Collection - Heritage 1/2012:4614, $29,900 - Bella Collection (PCGS Set Registry) - A&A Saints Collection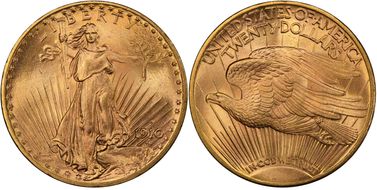 #3 MS66+ PCGS grade

Fox Collection (PCGS Set Registry)