1910 $20 MS66+
Certification #29586232,
PCGS #9154
Expert Comments
David Akers (1975/88)
The 1910 is by far the most common of the Philadelphia Mint issues from 1908 With Motto to 1915. In MS-63 it can be obtained with only a little difficulty, and below that level it is common and readily available. Although not nearly as difficult to locate as the other early Philadelphia Mint issues in gem condition, the 1910 is still definitely rare in MS-65, and it takes both a little luck and a little patience to be able to find one. In superb (MS-67) condition, this issue is a major rarity. I can recall seeing only a couple such pieces.
The 1910 is invariably well struck and the surfaces are always the "soft" frosty type. Lustre on this issue is usually very good (much better than on the 1908 With Motto, 1911, 1913 or 1914) and the color is typically medium yellow or orange gold.
Designer
Augustus Saint Gaudens
Diameter
34.00 millimeters
Metal
90% Gold, 10% Copper
Region
The United States of America
Price Guide
PCGS Population
Auctions - PCGS Graded
Auctions - NGC Graded
Rarity and Survival Estimates

Learn More
65 or Better
55000
All Grades
24000
60 or Better
375
65 or Better
R-2.4
All Grades
R-2.7
60 or Better
R-6.2
65 or Better
38 / 49
All Grades
35 / 49 TIE
60 or Better
30 / 49 TIE
65 or Better
41 / 54
All Grades
38 / 54 TIE
60 or Better
31 / 54 TIE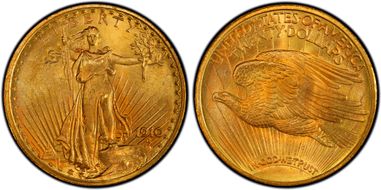 #1 MS66+ PCGS grade

Kutasi Collection - Heritage 1/2007:3270, $37,375 - Heritage 1/2012:4612, $54,625 - Dr. & Mrs. Steven L. Duckor Collection - Heritage 1/2012:4612, $54,625) - Bob R. Simpson Collection
#2 MS66 PCGS grade

Fox Collection (PCGS Set Registry)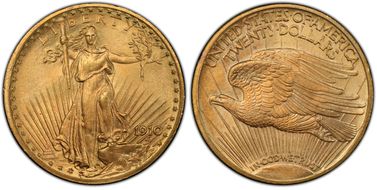 #2 MS66 PCGS grade

Luna Collection (PCGS Set Registry)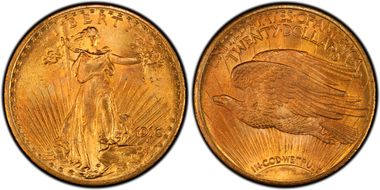 #2 MS66 PCGS grade

Dr. Steven Duckor Collection - Bella Collection - A&A Saints Collection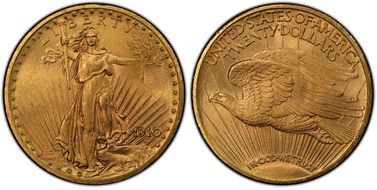 #2 MS66 PCGS grade